Director of the National Weather Service: Who Is Louis Uccellini?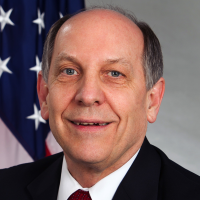 On February 10, 2013, Louis W. Uccellini was made director of the National Weather Service (NWS). The appointment of Uccellini, an expert on blizzards, came shortly after Superstorm Sandy raked the Northeast.
The son of the Louis D. Uccellini and Margaret A. Isemann, Uccellini is from Bethpage, New York, on Long Island. His interest in weather came at a young age; tropical storms Carol and Diane in the 1950s and Hurricane Donna in 1960 hit Long Island and spurred Uccellini to study meteorology. He graduated from Bethpage High School in 1967 and went to the University of Wisconsin at Madison. He stayed in Madison until 1978, earning his bachelor's in 1971; master's in 1972; Ph.D. in 1977; and did post-doctoral work, all in meteorology.
Uccellini left Wisconsin in 1978 to become head of mesoscale analysis and modeling at NASA's Goddard Space Flight Center's Laboratory for Atmospheres. Mesoscale analysis refers to medium-sized weather systems, smaller than a tropical storm, for instance.
In 1989, Uccellini moved over to the National Weather Service as chief of its Meteorological Operations Division and in 1994 became the director of the agency's Office of Meteorology.
Uccellini was made director of the National Centers for Environmental Prediction in 1999. There he directed the planning, science and technology in NWS's central operations, as well as its seven centers dealing with specific weather phenomena, such as the National Hurricane Center in Miami and the Space Weather Prediction Center in Boulder.
In 2006 a scale to measure the effect of Northeastern winter storms, the Northeast Snowfall Impact Scale, developed by Uccellini and Paul Kocin, a winter storms expert at The Weather Channel, began to be used. The scale, used to measure the severity of a storm after it's over, gives events one of five rankings: 1, Notable; 2, Significant; 3, Major; 4, Crippling and 5, Extreme.
The following year, Uccellini became involved in a controversy involving the head of the National Hurricane Center, Bill Proenza. Proenza criticized NWS for spending money on a public-relations campaign and anniversary party at the expense of more modern weather forecasting systems. Proenza also spoke out about the condition of the aging QuikSCAT satellite that provided a data stream measuring wind speeds in developing cyclones. Uccellini was among the NWS officials who tried to silence Proenza, telling him, according to Proenza: "You better stop these QuikScat [and other] complaints. I'm warning you. You have NOAA, DOC [the U.S. Department of Commerce] and the White House pissed off." Proenza, who didn't have the support of many National Hurricane Center employees, was eventually reassigned.
Shortly after taking over NWS, Uccellini announced the upgrade of the agency's computer systems, which are considered inferior to European systems and were partly to blame for NWS's inability to predict what Sandy would do.
Uccellini has written extensively on weather, including co-authoring a two-volume publication, Northeast Snowstorms. Uccellini and his wife, Susan, who works as an administrative assistant, have three children.
-Steve Straehley
To Learn More:
It's Not Just the Weather Anymore: An Interview with Dr. Louis Uccellini (Space Science and Engineering Center, University of Wisconsin-Madison)