Director of the National Institute of Standards and Technology: Who Is Willie May?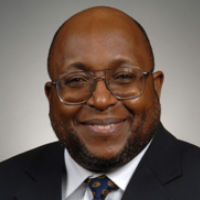 On July 24, 2014, President Barack Obama nominated Willie E. May to be Commerce under secretary for Standards and Technology and director of the National Institute of Standards and Technology (NIST). May is currently serving as the institute's acting director.
May graduated from Parker High School in Birmingham, Alabama, in 1964 with a love of chemistry inspired by one of his teachers there. He had hoped to attend Howard University in Washington, but his application information was misplaced. Instead, his school's principal lined up a scholarship for him at Knoxville College in Tennessee and he graduated from there with a B.S. in chemistry in 1968. He had offers of spots at graduate schools, but with a low draft lottery number during the height of the Vietnam War he took a job as a senior analyst at the Oak Ridge (Tennessee) gaseous diffusion plant, which offered a deferment from the draft.
In 1971, May accepted a job at what was then the National Bureau of Standards and he's been there ever since. Meanwhile, May began work on a Ph.D in chemistry at the University of Maryland and completed it in 1977.
His positions at NIST have included chief of the Analytical Chemistry Division, director of the Chemical Science and Technology Laboratory, associate director of laboratory programs and director of the Material Measurement Laboratory.
May's specialty is analytical chemistry research. He helped establish the pollution baseline for Prince William Sound before the opening of the Alaska Pipeline and has also worked on protocols for environmental sample collection for trace organic analysis.
May has been a vice president of the International Committee on Weights and Measures since June 2008 and a member of the Board of Visitors of the University of Maryland Biotechnology Institute. He and his wife, Jeannie, have a son, Eric, and a daughter, Jeanniece.
-Steve Straehley
To Learn More:
Member Spotlight: Dr. Willie E. May (by Regina Vincent Clark, National Organization for the Professional Advancement of Black Chemists and Chemical Engineers)