Director of the Minority Business Development Agency: Who Is Alejandra Castillo?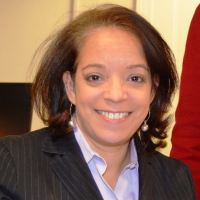 On April 17, 2014, Commerce Secretary Penny Pritzker appointed Alejandra Y. Castillo to lead the Minority Business Development Agency, which aims at increasing the growth and competitiveness of minority-owned business, toward the goal of entrepreneurial parity.
Castillo was born in New York City to immigrants from the Dominican Republic. Her father was a small business owner in the Bronx and Castillo often relates his experiences to audiences. When she was 11 years old, her family moved to the Dominican Republic and she lived there until she was 19, with a year in Portugal in a study abroad program.
She attended the State University of New York at Stony Brook, where she was involved in fencing. Castillo earned a B.A. in economics and political science, and went on to the University of Texas, where she earned a Master's in public policy in 1995. Her first job after college was as a writer/researcher for the Council on Hemispheric Affairs.
Early in her career, Castillo worked for the Democratic National Committee (DNC) and had a tangential involvement in a campaign finance controversy involving donations from Roger Tamraz, who also lobbied the Clinton administration to support a pipeline he wanted to build. Castillo wrote a memo in July 1995 warning DNC Chairman Donald Fowler to be wary of Tamraz because of "his past involvement in shaky international business and para-military organizations." She added, "Pay attention to these warning signals."
In 1992, as a Congressional Hispanic Caucus Fellow, she worked in the Poverty and Health Office of the Senate Labor and Human Resources Committee, which at the time was headed by Sen. Edward Kennedy (D-Massachusetts).
Castillo also served in the Clinton administration White House as a senior policy analyst to the deputy director at the White House Office of National Drug Control Policy. After Bill Clinton's tenure as U.S. president ended, Castillo earned her law degree from American University in 2004, clerked for a D.C. Superior Court judge and worked as an attorney in private practice and for nonprofits.
She was a founding member of the Dominican American National Roundtable and was interim executive director of the Hispanic National Bar Association. In 2008 she worked for the Hillary Clinton for President campaign in Iowa.
Castillo joined the Commerce Department in 2008 as special advisor to Christopher Padilla, the under secretary for the U. S. Department of Commerce's International Trade Administration. She was responsible for business outreach and intergovernmental affairs and assisted in the development of policy initiatives related to trade promotion and enforcement of U.S. trade laws.
In 2010, Castillo was named national deputy director of Minority Business Development Agency, and was moved up to the directorship in 2014.
In 2009 Castillo gained custody of two teenage nieces. She speaks Spanish and Portuguese.
-Steve Straehley, David Wallechinsky
To Learn More:
Alejandra Castillo on Linkedin
Leading a Powerful Agency under President Obama's Administration, Alejandra Castillo Helps Minority Businesses Thrive. (Hispanic Executive) (pdf)