Director of the Domestic Nuclear Detection Office: Who Is Jim McDonnell?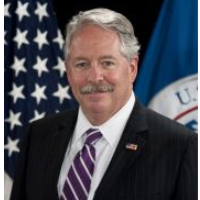 Jim McDonnell
On June 20, 2017, President Donald Trump appointed James F. McDonnell III as the director of the Domestic Nuclear Detection Office (DNDO). Located in the Department of Homeland Security (DHS), DNDO is responsible for funding research and development aimed at developing screening systems that can detect a nuclear weapon or "dirty bomb" entering the U.S. McDonnell has been an advisor at DHS since March 2017.
The son of James F. and Barbara McDonnell, he was born circa 1957. His father was a Navy veteran and the president of the J.J. McDonnell Coffee Company.
The younger McDonnell joined the Navy himself in 1975 and retired as an officer twenty years later. He served mainly as an EOD (Explosive Ordnance Disposal)/Special Operations officer. He was posted to Roosevelt Roads, Puerto Rico; Barbers Point, Hawaii; Cecil Field, Florida; and finished up his career at the Naval Special Warfare Development Group in Virginia Beach, Virginia, where he served from 1992 to 1995.
After leaving the Navy, McDonnell served as director of national security operations at Oak Ridge Associated Universities, a consortium of American universities dedicated to advancing scientific research and education, from 1995 to 2001.
Following the September 11, 2001, terrorist attacks, he took a job with the U.S. Department of Energy as the founding director of the Office of Energy Assurance, which was responsible for protecting the nation's energy infrastructure. In September 2002, McDonnell began working for the Homeland Security Transition Planning Office in the White House, helping to plan the newly created Department of Homeland Security.
At some point, McDonnell gained a B.S. from Regents College (now Excelsior College), a distance learning institution based in Albany, NewYork, that is popular with military personnel. He also earned an M.A. in American Studies at Georgetown University in 2002, where he wrote a thesis entitled, "Constitutional Issues in Federal Management of Domestic Terrorism Incidents," later published as a short book.
In March 2003, he left both his Energy Department and White House jobs to be division director for critical infrastructure protection at DHS, staying until 2004. He got into a bit of trouble at DHS, however, and was investigated for loose contracting practices, specifically whether he and another DOE official "improperly influenced the decision to give $20 million to the [Oak Ridge National] laboratory since 2004 to help develop a list of the nation's top potential terrorist targets." No charges were ever brought, although The Washington Post noted that as of October 2006 the list in question "remains incomplete and is of limited value."
Joining the private sector in June 2004, McDonnell became vice president, chief information & security officer at the U.S. Enrichment Corporation (now Centrus) a nuclear fuel supply company initially created by the Energy Policy Act of 1992. He worked there until December 2006, before briefly working for Amtrak as VP and chief risk officer, in 2007.
In 2005, he was chosen as a senior fellow at George Washington University's Homeland Security Policy Institute.
McDonnell founded his own consulting firm, McDonnell Consulting Group in Mt. Vernon, Virginia, and was its president from 2004 to March 2017. As such, he provided advice in government relations and business development, as well as counterterrorism, corporate security, and business operations. For most of that time, he was also chairman and CEO of Trinity Applied Strategies Corporation, a commercial risk management company, from May 2006 to December 2015.
Also during those years (October 2014 to December 2016), McDonnell was CEO of I'm Safe Apps, in Fairfax County, Virginia, which sold smartphone and web based security systems that are designed to make average citizens feel safer and more aware of security risks.
Jim McDonnell is married to Deirdre McDonnell.
-Matt Bewig
To Learn More:
LinkedIn Profile
DHS Reviews Claims Of Contract Conflicts (by Spencer S. Hsu, Washington Post)