Director of Defense Advanced Research Projects Agency (DARPA): Who is Regina Dugan?
Wednesday, March 02, 2011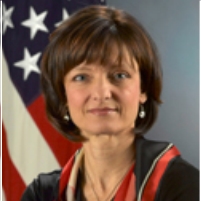 Born March 19, 1963, Dugan obtained her Bachelor of Science and Master of Science degrees in mechanical engineering from Virginia Polytechnic Institute and State University in 1984 and 1985 respectively, and her doctorate degree in mechanical engineering in 1993 from the California Institute of Technology (Caltech). She was co-chairwoman of the Organization for Women at Caltech, an institution where 80% of graduate students were men.
After leaving the agency in 2000, Dugan served as a special advisor to the Vice Chief of Staff of the Army, completing a "Quick Reaction Study on Countermine for Enduring Freedom" in Afghanistan (2001-2003).
In a March 2010 appearance before the House Armed Service Committee's subcommittee on terrorism, unconventional threats and capabilities, Dugan outlined her vision for DARPA's research goals, which includes everything from plant-based vaccines to biomimetics (using biological systems as the models for technological solutions). She used her time before lawmakers to make the point that the U.S. needs to invest more in higher education and industry to develop an "elite army of futuristic technogeeks."
- David Wallechinsky, Noel Brinkerhoff