Commander, U.S. Army Combined Arms Center: Who Is Robert Brown?
Sunday, September 21, 2014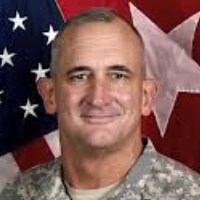 In February 2014, Lieutenant General Robert Brooks Brown assumed command of the U.S. Army Combined Arms Center at Fort Leavenworth, Kansas. The center has been called "the intellectual center of the Army" and is where officers go for leadership development and the elite Command and Staff College.
Brown is from Grosse Pointe Woods, Michigan, and graduated from Grosse Pointe North High School in 1977, where he was a multi-sport athlete. He continued his athletic career when he attended the U.S. Military Academy at West Point, playing on the basketball team and becoming a graduate assistant coach after his 1981 graduation.
After that, Brown began a more traditional route of the Army chain of command, first as a platoon leader, then increasingly more responsible assignments. In the mid-1980s, Brown went to the University of Virginia, where he earned a master's degree in education. Fittingly, his next assignment was back at West Point, this time as an assistant professor in the Department of Military Instruction.
In 1992, Brown began a tour in Hawaii, first as military plans officer and deputy chief of staff for operations, United States Army Pacific and later as S-3, the officer in charge of training and operations, and later executive officer of 1st Battalion, 21st Infantry, 25th Infantry Division. During this period, Brown also served in Haiti as part of Operation Uphold Democracy, the effort to remove the government installed in the wake of the coup to overthrow President Jean-Bertrand Aristide.
Brown's next stop was Washington where he worked in several staff jobs, including as the aide-de-camp and assistant executive officer to the vice chief of staff of the Army and as a staff officer in the Office of the Deputy Chief of Staff for Operations and Plans. In 1998, Brown was sent to Fort Hood, Texas, as a battalion commander and during this time was task force commander of Operation Joint Forge in Bosnia-Herzegovina.
Brown then returned to Washington to work on the Joint Staff and subsequently to study at the National War College, where he earned a master's degree in national security and strategic studies in 2002.
He then took command of 1st Brigade, 25th Infantry Division and led it into Iraq in 2004. He returned to Iraq in 2008 as deputy commanding general for support of the 25th Infantry Division. Brown went to Germany in 2010 as chief of staff of the United States Army in Europe and deputy commander, U.S. Army NATO. After that, he was named commander of the Maneuver Center of Excellence and Fort Benning in Georgia. His most recent assignment was as commanding general of I Corps and aenior Army commander for Joint Base Lewis-McChord near Tacoma, Washington.
Brown is married to his high-school sweetheart, Patti and they have three daughters and a granddaughter. One of their daughters, Kelly Brown Calway, is following in her father's footsteps. She's a captain in the Army and is a runner who placed 25th in the U.S. Olympic Team trials for the marathon in 2012.
-Steve Straehley
To Learn More:
Official Biography (pdf)
Get to Know: Lieutenant General Robert Brooks Brown (Northwest Guardian)