Chief of Protocol: Who Is Sean Lawler?
Wednesday, October 25, 2017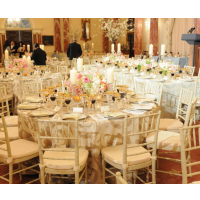 Elegance and style of official state functions, as seen above, is one duty of Office of Chief of Protocol
Sean P. Lawler, a former master chief petty officer in the U.S. Navy, was announced September 15, 2017, as the nominee to lead the Office of the Chief of Protocol in the State Department. The office arranges detailed itineraries for foreign dignitaries visiting the United States and accompanies the president on official travels abroad. It also plans and executes diplomatic ceremonies and dinners, oversees the accreditation of foreign ambassadors and manages Blair House, the president's guest residence for visiting foreign leaders.
Lawler is a 20-year Navy veteran, serving as a yeoman. Moving into the world of diplomacy from that role isn't as unlikely as it might seem. From 1998 to 2000, Lawler was flag writer to the commander of U.S. Naval Forces in Europe. Flag writers travel with their boss, usually an admiral; manage senior office personnel; draft personal and professional correspondence; manage social, protocol, honors and ceremonies; prepare and carry out travel orders; and prepare personnel reports and evaluations. Lawler assumed a similar role in 2000 for the commander of the Abraham Lincoln strike group, which was deployed as part of President George W. Bush's "War on Terror", Operation Southern Watch in Iraq, and Bush's invasion and occupation of Iraq. Earlier, he also served in Rwanda, Bosnia-Herzegovina and Kosovo.
Lawler moved on in 2002 to be executive assistant to the commander of the U.S. Pacific Fleet. In 2005, he was transferred to the aircraft carrier USS John C. Stennis as leading chief petty officer in the Administrative Department and the ship's secretary. Lawler then took over as director of administration of Naval Support Facility Thurmont, better known as Camp David.
After leaving the Navy, he worked as chief of the Office of Visits and Protocol in the U.S. Cyber Command in Fort Meade, Maryland; and then as director for visits, planning and diplomatic affairs for the National Security Council.
Lawler has a B.A. in history from the University of Maryland University College.
-Steve Straehley
To Learn More: