Chief Executive Officer of the Millennium Challenge Corporation: Who is Dana Hyde?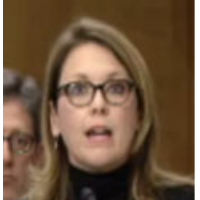 On January 15, 2014, the Senate Foreign Relations Committee approved the nomination of Dana J. Hyde to be the chief executive officer of the Millennium Challenge Corporation (MCC). She was nominated to the position by President Barack Obama on September 26, 2013. If approved by the full Senate, Hyde will be managing an independent agency charged with combating instability in foreign countries by spurring economic development. Because Hyde has had to wait seven months for confirmation, on April 15, the MCC named Sheila Herrling to serve as acting CEO.
Hyde grew up in a small town in eastern Oregon and received her undergraduate degree in political science from UCLA.
From 1989 to 1991, Hyde served as a legislative assistant for the American Israel Public Affairs Committee (AIPAC). She subsequently worked on President Bill Clinton's first campaign for the White House. After Clinton's inauguration, Hyde served as special assistant to the president in the White House Office of Cabinet Affairs, coordinating policy initiatives with the chiefs of staff of national security agencies. She remained in that post until 1995. She later served as special assistant to the Deputy Attorney General in the Clinton Justice Department.
She received her law degree from Georgetown and passed the bar in 1997. From 1998 to 2000, Hyde worked as an attorney at the law firm Zuckerman, Spaeder. Then, from 2001 to 2002, she practiced law as part of the international arbitration group at WilmerHale. She also worked in London for the firm of Wilmer, Cutler & Pickering.
One of Hyde's most prominent roles was as counsel to the 9/11 commission, where she served from 2003 to 2004. She focused on crisis management issues and the immediate response of the White House, the Pentagon, and the Federal Aviation Administration to the attacks.
After leaving the commission, Hyde was executive director of the Partnership for a Secure America. This organization has as its goal the advancement of bipartisan work on national security and foreign policy issues.
In 2009, after serving on the Obama-Biden transition team, Hyde was named a senior advisor for management and resources at the State Department. Then, in 2011, Hyde moved to the Office of Management and Budget, becoming associate director for general government programs.
Hyde is married to Jonathan Chambers and has two sons, Judah and Elijah.
-Steve Straehley
To Learn More:
Statement of Dana J. Hyde Nominee to be Chief Executive Officer, Millennium Challenge Corporation (pdf)