Chairman of the Nuclear Waste Technical Review Board: Who Is Rodney Ewing?
Saturday, August 16, 2014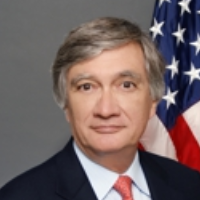 On September 25, 2012, President Barack Obama made Dr. Rodney C. Ewing chairman of the Nuclear Waste Technical Review Board, a panel on which Ewing has sat since July 2011. Obama reaffirmed Ewing's position on June 13, 2014. The Review Board conducts scientific and technical assessments of the Department of Energy's activities to dispose of the nation's commercial spent nuclear fuel and defense high-level radioactive waste.
Ewing is from Irving, Texas, outside Dallas. He graduated from Texas Christian University in nearby Fort Worth in 1968 with a B.S. in geology. He then served in the Army for two years, teaching English to children in Vietnam for part of his tour.
Upon his discharge, Ewing went to Stanford on a National Science Foundation grant, earning an M.S. in 1972 and a Ph.D. in 1974. His graduate work focused on metamict minerals, which are damaged by uranium and thorium atoms. The study of those minerals led to work on the disposal of nuclear waste.
Ewing's first professorship came at the University of New Mexico in Albuquerque. He continued work on metamicts and used that research to study how nuclear materials affect minerals to find effective containers in which to store nuclear waste, which must be isolated for thousands of years.
After 23 years in New Mexico, Ewing was lured to the University of Michigan in 1997. He continued his work with nuclear energy and materials, holding appointments in the departments of Nuclear Engineering and Radiological Sciences from 1997 to 2013, Geological Sciences from 1997 to 2013 and Materials Science and Engineering from 2008 to 2013. From 2011 to 2012, Ewing was a visiting professor at Stanford in its Center for International Security and Cooperation (CISAC).
He returned to Stanford on a full-time basis in 2013 as its Stanton Professor of Nuclear Security Studies, continuing his work on nuclear issues.
Along the way, Ewing has published more than 650 scientific papers and received a patent for the development of a highly durable material for the immobilization of excess weapons plutonium. He was also a founding editor of Elements magazine.
-Steve Straehley
To Learn More:
Earth Scientist And Nuclear Waste Expert Rod Ewing Joins Stanford (by Beth Duff-Brown, Stanford University Center for International Security and Cooperation)
Power Mandate (by Nancy Allison, TCU Magazine)