Chairman of the National Transportation Safety Board: Who Is Christopher Hart?
Saturday, August 23, 2014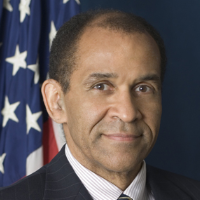 On June 26, 2014, President Barack Obama nominated Christopher A. Hart to be chairman of the National Transportation Safety Board (NTSB). Hart has been in the post in an acting capacity since April, when former chair Deborah Hersman resigned.
Hart was born in Denver on June 18, 1947, and grew up there, graduating from East High School. He has an aviation tradition in his family; his great uncle James Herman Banning in 1926 became the first African-American to earn a pilot's license from the U.S. government. That was the first year the federal government licensed pilots.
Hart went to Princeton University, earning a B.S.E. in aerospace engineering in 1969 and an M.S. in the same subject in 1971. He then went to Harvard, earning a law degree in 1973. His first job out of law school was as an associate attorney at Peabody, Rivlin, Lambert & Meyers in Washington. Hart got his first taste of the transportation industry in 1976, when he became an attorney for the Air Transport Association of America, a trade group for airlines.
In 1977, Hart joined the Department of Transportation as deputy assistant general counsel for environmental, civil rights and general law. After two years, he left government service to become an associate at the law firm of Dickstein, Shapiro and Morin in Washington.
Hart struck out on his own in 1981 as managing partner of his own firm, Hart & Chavers in Washington. He returned to the federal government in 1990 for his first term as a member of the NTSB, serving for three years. In 1994, Hart was named deputy administrator of the National Highway Traffic Safety Administration.
He reentered the aviation world in 1995 as assistant administrator for system safety for the Federal Aviation Administration (FAA), remaining in that role for 10 years. In 2005 he was named FAA's deputy director for air traffic safety oversight.
Hart returned to the NTSB as a member in 2009 and was named the board's vice chairman the same year and has served there since. He has represented the board on investigations including the 2010 San Bruno gas pipeline explosion, a casino bus crash, and recently was the face of the NTSB during the investigation into the 2013 Asiana airliner crash in San Francisco and several oil tank car accidents.
From 1999 to 2008, Hart was on the board of the National Sleep Foundation and has talked about the need for those who drive or fly the public to be tested for sleep disorders.
Hart has a pilot's license and is rated for commercial, multi-engine and instrument flying and has had a chance to do what few private pilots do—fly an F-18 Hornet at supersonic speeds.
Hart's wife, LeeAnn, works for the FAA and is currently its program manager for its Global Leadership Strategic Initiative. He has two children, a son Adam and a daughter Brooke.
-Steve Straehley
To Learn More: