Chairman of the Federal Election Commission: Who Is Matthew S. Petersen?
Tuesday, February 02, 2016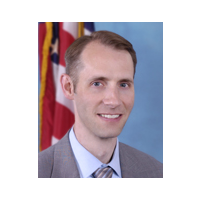 Matthew S. Petersen
Matthew S. Petersen, who has been a member of the Federal Election Commission (FEC) since 2008, was elected as the board's chairman on December 17, 2015. It's Petersen's second term as commissioner.
Petersen was born in Los Angeles in 1970, but grew up in Mapleton, Utah, as one of seven children. He was a standout on the Springville High School basketball team. He had thoughts of following his father, a radiologist, into medicine, but instead turned to the law, and subsequently politics.
Petersen received an associate degree from Utah Valley State College in 1993, before attending Brigham Young University. He graduated in 1996 magna cum laude with a Bachelor of Arts degree in philosophy, and three years later received his law degree from the University of Virginia School of Law, where he was a member of the Virginia Law Review.
From 1999 to 2002, Petersen specialized in election and campaign finance law at the law firm of Wiley Rein LLP in Washington, D.C.
He then went to work on Capitol Hill, serving as counsel for the House Committee on House Administration. During his tenure, Petersen was involved in the crafting of the Help America Vote Act of 2002 (HAVA) and the House-Senate negotiations that culminated in HAVA's passage.
From 2005 until his appointment to the commission, Petersen served as Republican chief counsel to the Senate Committee on Rules and Administration working for Utah Senator Bob Bennett (R). In this capacity, he provided counsel on issues relating to federal campaign finance and election administration laws, as well as the standing rules of the Senate.
President George W. Bush nominated Petersen to a spot on the FEC in June 2008. His nomination was confirmed by his former employers on the Rules Committee. He served a term as FEC chairman beginning in 2010.
As one of the three Republican appointees on the FEC, Petersen has been a reliable vote against attempts to reform elections. In 2013, for instance, he voted to make it more difficult for the Justice Department to prosecute campaign finance violations.
Although Petersen's term expired in 2011, he will serve on the commission until he's replaced.
Petersen and his wife, Wendy, have several children.
-Steve Straehley, Noel Brinkerhoff