Chair of the National Labor Relations Board: Who Is Philip Miscimarra?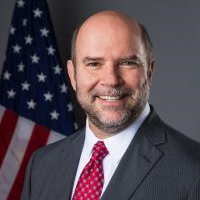 Philip Miscimarra
Philip A. Miscimarra was named chair of the National Labor Relations Board (NLRB) by President Donald Trump on April 24, 2017, having served as acting chairman since January 26, 2017. Miscimarra worked for eight years for the law firm that represents Trump. Originally appointed to the NLRB by President Barack Obama in 2013, Miscimarra's term as chair expires December 16, 2017.
The NLRB is an independent agency created during the New Deal in 1935 to enforce the rights guaranteed by the National Labor Relations Act. The Act ensures the rights of workers to organize themselves into unions, to bargain collectively with employers, and to take collective action, such as strikes, to enforce those rights. During his tenure at the NLRB, Miscimarra, a Republican, has consistently sided with employers over employees and opposed the expansion of union rights.
However, just five days before Trump's election, Miscimarra joined a unanimous NLRB opinion to force Trump's Las Vegas hotel to recognize the Unite Here union after the hotel workers had voted to unionize.
Born March 14, 1956, Miscimarra grew up in Pittsburgh, where his father Anthony worked for the city and his mother Helen (Venditto) was a member of the school board. Miscimarra earned a B.A. in English and Economics at nearby Duquesne University in 1978, an MBA at the University of Pennsylvania Wharton Business School in 1982, and a JD at the University of Pennsylvania Law School in 1982.
After law school, Miscimarra practiced labor and employment law at a series of private firms, always representing employers against their workers, despite his allegedly working class origins. He started his legal career in Pittsburgh at Reed Smith LLP in 1982, moving to Chicago to work for Murphy Smith & Polk in 1986-1987, before landing at Seyfarth Shaw LLP, where he practiced 18 years, from 1987 to 2005, including as a partner with its labor and employment group. In May 2005, Miscimarra joined the law firm of Morgan Lewis and Bockius, the same year that the firm began representing Donald Trump. Among other clients, Miscimarra represented the Business Roundtable, a lobbying group for CEOs. He remained with Morgan Lewis until President Obama appointed him to the NLRB in April 2013. He was confirmed by the Senate in July 2013.
Miscimarra was a senior fellow in the Center for Human Resources at the University of Pennsylvania's Wharton Business School until joining the NLRB. He has written or co-written several books involving labor law issues, including N.L.R.B. and Managerial Discretion: Plant Closings, Relocations, Subcontracting, and Automation (1983); Government Protection of Employees Involved in Mergers and Acquisitions (1989 and 1997 supp.); and The NLRB and Secondary Boycotts (3d ed. 2002);
Philip Miscimarra is married to Mary Lynn (Adamson), with whom he has three sons: Andrew, Joseph and Eric.
-Matt Bewig
To Learn More:
New NLRB Chairman Philip Miscimarra Expected to Undo Recent Pro-Union Changes (by Sean Higgins, Washington Examiner)
Statement before the Senate Committee on Health, Education, Labor and Pensions (pdf)