Census Bureau Director Resigns: Who is Robert Groves?
Wednesday, April 11, 2012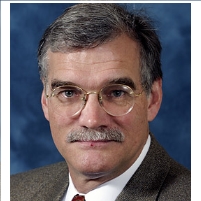 Dr. Robert M. Groves announced on Tuesday that he was resigning his position as director of the
U.S. Census Bureau
in order to take over as provost of Georgetown University. "I'm an academic at heart," Groves told
The Washington Post
. He will leave the Bureau in August. Unlike some government officials who recently have had to resign under a cloud, such as
Regina Dugan
of
DARPA
and
Martha Johnson
of the
General Services Administration
, Groves received universal praise for the job he did directing the
2010 Census
, a herculean task he completed on time and almost $2 billion under budget.
At the time of Groves' nomination, Rep. Darrell Issa, (R-California), chairman of the
House Committee on Oversight and Government Reform
,
said
that he found it "an incredibly troubling selection that contradicts the administration's assurances that the census process would not be used to advance an ulterior political agenda." However, by the time Groves announced that he was leaving, Issa had changed his tune and issued a statement that "His tenure is proof that appointing good people makes a big difference."
When President Barack Obama nominated Groves on April 2, 2009, he was viewed as a generally uncontroversial professor of sociology. However, his nomination turned out to be contentious anyway because his support for using
statistical sampling
, a statistical method commonly used to correct for errors and biases in the census, raised the ire of
Republican critics
, who believed that sampling would benefit minorities and the poor, who generally vote Democratic.
Originally from Kansas City, Missouri, Groves earned an AB in sociology from Dartmouth College in 1970, Master's degrees in Sociology and Statistics from the University of Michigan in 1973, and a PhD in Sociology from the University of Michigan in 1975. He spent his entire academic career at the University of Michigan, where, at the time of his nomination, he was a research professor of sociology. He left Ann Arbor for brief stints as a visiting professor at the Center for Surveys, Methods and Analysis in Mannheim, Germany (now part of the
GESIS – Leibniz Institute for the Social Sciences
) in 1987 and 1997, and at
Statistics Sweden
in Stockholm in 1989. Beginning in 2001, Groves was the director of the
University of Michigan Survey Research Center
, one of the leading academic institutions in the field, which conducts the closely followed
Consumer Survey
and other studies. During the course of his career, Groves has published eight books and numerous articles.
A specialist in survey methodology and statistics, Groves was no stranger to the Census Bureau, whose decennial census is one of the world's largest and most sophisticated statistical exercises. Groves served there early in his career as a visiting statistician in 1982, and later as associate director of Statistical Design, Standards, and Methodology from 1990 to 1992. It was during the latter period that Groves became embroiled in the controversy over the proposed use of statistical sampling to correct known biases and deficiencies in the Census head count. Groves and others at the Census Bureau proposed using sampling techniques to correct an admitted 1.2% undercount in the 1990 Census, which failed to include millions of homeless, minority and poor persons mainly living in big cities, which lost millions of dollars in federal funds when Republican Commerce Secretary Robert Mosbacher vetoed the sampling proposal.
Republicans reacted negatively to Groves's nomination by President Barack Obama. In addition to Issa, Congressman Patrick McHenry (R-North Carolina) warned that, "With the nomination of Robert Groves, President Obama has made clear that he intends to employ the political manipulation of census data for partisan gain." On the other hand, Mark Blumenthal, then publisher and editor of the nonpartisan website Pollster.com retorted that, "the notion of Bob Groves yielding to partisanship is laughable. As in rolling on the floor laughing out loud laughable."
-Matt Bewig
To Learn More:
Georgetown Picks Census Director as Next Provost (by Carol Morello, Washington Post)