Cameroon's Ambassador to the United States: Who Is Henri Etoundi Essomba?
Sunday, November 13, 2016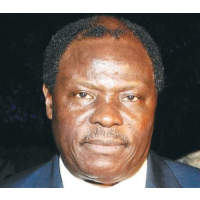 Henri Etoundi Essomba
Henri Etoundi Essomba, a longtime member of Cameroon's Foreign Service, was appointed on April 11, 2016, to be his country's ambassador to the United States. He presented his credentials on June 27, 2016.
Etoundi Essomba's first thought of a vocation was the priesthood. However, after attending seminary for a while, he found that it wasn't for him and he left. While considering his next move, Etoundi Essomba took the placement test for Cameroon's foreign ministry and was accepted.
His early assignments included postings in Paris and Brasilia. However, the majority of his career has been spent in Israel. He was originally sent to the country in the early 1990s as chargé d'affaires, expecting to set up Cameroon's mission there and leave shortly thereafter. However, he stayed for five years, returning home when he was made deputy chief of protocol.
In 1998, Etoundi Essomba returned to Israel, this time as ambassador. He spent 17 years there, raising his four children with his wife, Esther. During his tenure, Cameroon became an ally of Israel, often voting against anti-Israeli measures at the UN. For its part, Israel trains some of Cameroon's military and supplies it with weaponry. Etoundi Essomba had been dean of Israel's diplomatic corps for several years when he left for Washington.
Etoundi Essomba enjoys watching basketball and soccer.
-Steve Straehley
To Learn More:
Meet the Ambassador: Cameroon's Henri Etoundi Essomba (by Greer Fay Cashman, Jerusalem Post)