Burma's Ambassador to the United States: Who Is Aung Lynn?
Monday, December 26, 2016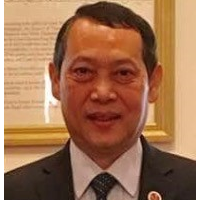 Aung Lynn
Aung Lynn was appointed on July 18, 2016, as the ambassador to the United States from Burma (Myanmar). It's the first time in more than 50 years that a career member of the Foreign Ministry has held the post.
Aung Lynn's early work was in geology, not diplomacy. He has a bachelor's degree in geology from the University of Yangon and joined his country's government in 1982 as an assistant engineering geologist in the Ministry of Irrigation. The following year he moved to the Ministry of Foreign Affairs.
Aung Lynn served as a third secretary in the ministry and from 1987 to 1992 as a consul in Hong Kong. He also served at the embassy in South Africa. In the mid-1990s, while working on his master's in public policy at the National University of Singapore, Aung Lynn also led the ministry's Department of Political Affairs.
From 2004 to 2007, Aung Lynn was a minister/counselor in Burma's permanent mission to the United Nations. By 2011, he was Director General for Association of the Southeast Asian Nations (ASEAN) affairs department. In the months before he was given the Washington assignment, Aung Lynn was Permanent Secretary of the Ministry of Foreign Affairs.
Aung Lynn presented his credentials as ambassador to President Obama on September 16, 2016.
-Steve Straehley
To Learn More:
The Leaderboard: U Aung Lynn (Center for Strategic and International Studies)