Bulgaria's Ambassador to the United States: Who Is Tihomir Stoytchev?
Sunday, November 27, 2016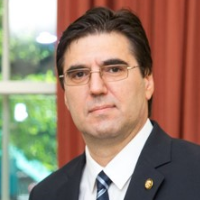 Tihomir Stoytchev
Tihormir Stoytchev, a career member of his country's Foreign Service, presented his credentials as Bulgaria's ambassador to the United States on June 27, 2016. It's his first such post.
Stoytchev was born in August 1962. He attended the University of Sofia, earning a B.A. and an M.A. in philosophy and history.
Much of Stoytchev's career has been spent working to help his country integrate into Europe after its time in the former Soviet bloc. Beginning in 1994, he worked in the European Integration Directorate in the areas of common foreign and security policy and justice and home affairs. In 1996, he was third secretary in Bulgaria's mission to the European Union as the country prepared to join the organization. He returned to the European Integration Directorate in 2000 as secretary of the EU Internal Market subcommittee.
Stoytchev was assigned to Washington as political and economic counselor in 2003. He was brought home in 2007 as head of the Department for EU External Relations, Budget and Financial Instruments, International Economics and Financial Organizations. He was back in Washington the following year, however, as deputy chief of mission in the embassy. He remained there until 2011, serving as chargé d'affaires from 2009 to 2010. Beginning in 2012, Stoytchev served as foreign policy secretary to Bulgarian President Rosen Plevneliev until being tapped as ambassador to the U.S.
Stoytchev said one of his major goals is to get his country added to the U.S. visa waiver program, which would facilitate travel by Bulgarians. Stoytchev speaks English, French and Russian.
-Steve Straehley
To Learn More:
Official Biography (pdf)