Brazil's Ambassador to the United States: Who Is Sergio Silva do Amaral?
Tuesday, December 27, 2016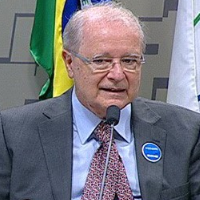 Sergio Silva do Amaral
Sergio Silva do Amaral, a long-time member of Brazil's diplomatic corps and trade official, presented his credentials as his country's ambassador to the United States on September 16, 2016.
Amaral was born in São Paulo on June 1, 1944. He earned a law degree at the University of São Paulo in 1967 and, in 1977, a degree in political science at the University of Paris 1 (Pantheon-Sorbonne). He joined Brazil's Foreign Service in 1971.
Early postings included Paris; Bonn, West Germany; Washington (twice); and Geneva. Most of his career has been spent advocating for Brazilian business. While stationed in Washington in 1984, Amaral was questioned by the Associated Press about Amazon deforestation. "Damage to the environment? This is something that can't be taken too seriously," he said, claiming that Brazil's forests are so vast that a small amount of damage would have little long-term effect.
By 1988, Amaral was in the Finance Ministry as its Secretary for International Affairs. During that period, he worked on restructuring Brazil's massive debt to other nations. In 1990, he was an alternate delegate to the General Agreement on Tariffs and Trade (GATT) and the following year was back at the embassy in Washington as a minister/counselor.
Amaral returned to Brazil in 1993 to serve as executive secretary of the Ministry of the Environment; moved over to Finance the following year as head of cabinet; and in 1995 was named presidential spokesman and head of the Department of Social Communication. He was sent to London as ambassador in 1999.
Amaral was back home in 2001 to serve as Minister of State in the Ministry of Development, Industry and External Commerce. While there, he fought U.S. steel tariffs and promoted alcohol-fueled cars, ethanol being a huge industry in Brazil. In 2003, he was again an ambassador, this time in Paris. He also served as representative to the Organization for Economic Cooperation and Development.
Since 2005, Amaral has not worked directly for the Brazilian government, instead serving in such posts as chairman of the Brazil-China Business Council, director of the Center for American Studies at the cultural institution FAAP, member of the Strategic Council of the Industry Federation of São Paulo, and as an attorney at the law firm of Felsberg and Associates.
Amaral is divorced and has four children. He speaks Portuguese, English, French, Spanish, German and Italian.
-Steve Straehley
To Learn More: