Bangladesh's Ambassador to the United States: Who Is Mohammed Ziauddin?
Sunday, December 14, 2014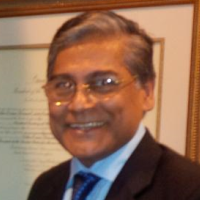 Mohammed Ziauddin, a longtime member of his country's Foreign Service, presented his credentials as Bangladesh's ambassador to the United States to President Barack Obama on September 18, 2014.
Ziauddin was born to Professor Mohammed Asiruddin and Shamsun Nahar Asiruddin. He attended Dhaka's St. Gregory High School, graduating in 1962 and received an intermediate degree from Notre Dame College, which corresponds to the last two years of secondary school in the United States, in 1964. Ziauddin went on to Dhaka University, where he received a B.A. in English literature in 1967 and an M.A. in that subject the following year.
Ziauddin joined the Foreign Service in July 1974, less than three years after Bangladesh declared independence. His early jobs included postings as third and second secretary at Bangladesh's High Commission (embassy) in London and first secretary at the High Commission in Nairobi, Kenya. Ziauddin was also counselor and deputy permanent representative to the United Nations in New York.
Between assignments, Ziauddin earned a diploma in commercial policy in 1977 at GATT/ United Nations Conference on Trade and Development in Geneva and completed foreign service training course in 1980 at Canberra, Australia. In 1989-1990, he was in Washington on a U.S. Congressional Fellowship.
He served in Dhaka as director general for international organizations and chief of protocol. Then, in May 2000, Ziauddin was appointed ambassador to Italy with concurrent credentialing to Albania and Bosnia-Herzegovina. He was also his country's representative to the UN's Food and Agriculture Organization, the World Food Program and the International Fund for Agricultural Development.
After that assignment, Ziauddin served as an ambassador-at-large for Prime Minister Sheikh Hasina until being named to the Washington post.
Since coming to the United States, Ziauddin has worked to obtain better trade terms for his country, requesting that the U.S. drop duties and quotas on Bangladeshi products.
Ziauddin and his wife, Yasmeen Ziauddin, have a grown son and daughter.
-Steve Straehley
To Learn More:
Official Biography (pdf)