Australia's Ambassador to the United States: Who Is Joe Hockey?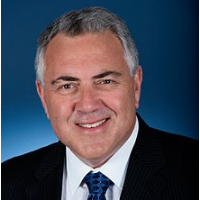 Joe Hockey
Joe Hockey, who at one time was a contender to lead Australia's Liberal Party and have a shot at the Prime Minister's job, was announced in December 2015 as his country's ambassador to the United States. It will be the first such position for the career politician, who took over in Washington on January 29, 2016.
Hockey was born August 2, 1965, in North Sydney, the youngest of four siblings. His father, Richard, was an Armenian who had been born in Bethlehem, Palestine. Hockey's mother, Beverley, was an Australian fashion model. Richard changed the family name from Hokeidonian to Hockey after immigrating to Australia. Hockey's parents ran a deli, then a successful real estate agency.
Hockey attended what is now St Philip Neri Primary School and St Aloysius' College, then became the first in his family to attend college. He earned degrees in arts and law at the University of Sydney and got his first taste of politics when he ran and won a campaign to be president of the Students' Representative Council.
Upon graduation, he practiced briefly as a finance and banking lawyer, but soon entered politics. He was head of the Young Liberals in New South Wales and in 1995 was named an advisor to John Fahey, premier of that state.
In 1996, Hockey was chosen by the Liberal Party to run for the North Sydney seat in Parliament, which he won. He was re-elected in 1998 and was made Minister for Financial Services and Regulation. The post made him one of the youngest ministers in Australian history.
He took the portfolio of Small Business and Tourism after the 2001 election and in 2004 was made Minister for Human Services. During this period, Hockey appeared on an Australian television show, Sunrise, with Labor party leader Kevin Rudd. The two would debate issues of the day and the segment was quite popular with viewers. In 2007, he was appointed Federal Minister for Employment and Workplace Relations and Minister Assisting the Prime Minister for the Public Service.
When the Liberals went out of power later that year—and Rudd became Prime Minister—Hockey was made shadow minister for health and aging, and manager of opposition business in the House of Representatives. In 2008 he was appointed shadow minister for finance. The following year, opposition leader Malcolm Turnbull appointed Hockey to be shadow treasurer and he was retained in that job in December 2009 when Tony Abbott won the race, against Hockey among others, to take over as Liberal leader.
Hockey also periodically campaigned for Australia to become a republic, cutting some of its ties to Great Britain. His views on that issue found little favor.
When Abbott and the Liberal Party returned to power in September 2013, Hockey was made treasurer. However, Hockey ran into trouble the following year when he presented his first budget. It called for cuts to family payments, punitive measures for unemployed young people, a Medicare co-payment, removal of caps on university fees, and $80 billion (Australian) in long-term cuts to health and education funding. He also announced an unpopular increase in fuel taxes. He defended the increase, saying "the poorest people either don't have cars or actually don't drive very far in many cases." Many of the budget proposals were blocked. His budget in 2015 was better received, but Hockey remained a lightning rod for criticism.
Turnbull took over as Liberal leader in 2015 and pushed out Hockey from the treasurer's post. Turnbull arranged a soft landing for him and, in October 2015, Hockey resigned his seat in Parliament to take over as ambassador in Washington. The appointment drew criticism from the opposition Labor Party, whose members cited Hockey's lack of experience in foreign affairs before taking up what's considered the country's most sensitive diplomatic post.
Hockey is married to Melissa Babbage, who was an official with Deutsche Bank. They have three children, Xavier, Adelaide and Ignatius. Hockey enjoys mountain climbing; he has scaled Kilimanjaro for charity.
-Steve Straehley
To Learn More:
Meet the Real Joe Hockey (by Deborah Snow and Anne Davies, The Age)
No Ordinary Bloke: Joe Hockey (by Angus Fontaine, Sydney Morning Herald)
Labor Questions Appointment of Joe Hockey as Australia's Ambassador to the U.S. (by Daniel Hurst, The Guardian)