Assistant Secretary of State for Consular Affairs: Who Is Michele Bond?
Sunday, November 16, 2014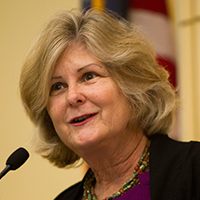 On September 8, 2014, President Barack Obama nominated Michele Thoren Bond, a career Foreign Service officer, to head the State Department's Bureau of Consular Affairs. Bond has been leading that office since April 2014 on an acting basis.
Bond is from Washington, D.C. Her mother Elise worked at the State Department and encouraged Bond to apply for a summer job there while she was attending Wellesley. Bond ended up interning in the Office of Congressional Travel. After she earned her B.A. from Wellesley, Bond went to Georgetown University and earned an M.S. in foreign service in 1977. She later earned an M.A. from the National War College.
Bond joined the Foreign Service in 1977. Her early postings included Guatemala City, Guatemala; Belgrade, Serbia; Prague, Czech Republic; and Moscow. In 1999 she was named director of consular training at the Foreign Service Institute, where she served until being named managing director of overseas citizens services in 2001.
Bond was sent overseas again in 2003 as the principal officer in the U.S. Consulate in Amsterdam. She came home in 2006 as director of the Office of Policy Coordination and Public Affairs in the Bureau of Consular Affairs. During this period, new passport requirements were imposed for U.S. citizens going to Canada, Mexico and the Caribbean. Bond worked to familiarize the public with the new requirements and was a go-to source in stories dealing with the crush of passport requests.
The following year, Bond was named deputy assistant secretary of state for overseas citizens services. She still held this post in 2010 when a huge earthquake struck Haiti. Bond's office worked with those in the United States who sought to adopt children left orphaned from the quake.
Later in 2010, Bond was named ambassador to Lesotho. Two of her projects while in that post were working on AIDS issues in that country and encouraging textile production and export. She returned to the United States in December 2012 to take up the post of principal deputy assistant secretary of state for consular services, where she served until being named acting director.
Bond's husband, Clifford Bond, is a former Foreign Service officer and served as ambassador to Bosnia-Herzegovina from 2001 to 2004. They have four children: Lillian, Elisabeth, Matthew and Robert, who is a Foreign Service officer himself. Bond speaks Spanish, French, Serbian and Swedish.
-Steve Straehley
To Learn More:
An Interview with Michele Thoren Bond, U.S. Ambassador to Lesotho (The Politic)