Assistant Deputy Secretary, Office of Innovation and Improvement: Who Is Nadya Chinoy Dabby?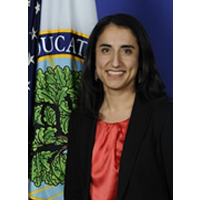 Nadya Chinoy Dabby
Nadya Chinoy Dabby has led the Department of Education's Office of Innovation and Improvement since June, 2013. The office manages grant programs aimed at boosting student success in K-12 schools.
Dabby is from Berkeley, California, where her father, Richard Walker, was a professor of geography at the University of California. Dabby attended that school, earning a bachelor's degree in international development in 1999 and a master's in urban planning in 2004. She continued her education at UCLA, where she earned an MBA in 2006.
After earning her undergraduate degree, Dabby worked, until 2002, as an associate for Harder and Co., which conducts research into issues of social change. Beginning in 2005, she worked briefly for technology company Corporate Executive Board, then the following year signed on with The Broad Foundation. As a director there, Dabby helped manage the foundation's education-related grants. In 2011, she was appointed by California Governor Jerry Brown (D) to a seat on the State Allocation Board, which apportions funds to school districts.
Dabby joined Office of Innovation and Improvement in 2011 as an associate assistant deputy secretary. She held that post until accepting leadership of the office in 2013.
In 2015, Dabby had to defend the Education Department's grant of charter school funding to Ohio, which, at $32.5 million, was the largest to date. Investigations have shown that Ohio's charter school program is one of the most troubled such programs in the country. "Ohio has a pretty good mechanism in place to improve overall quality and oversight," Dabby said without providing details. "We believe Ohio has put practices in place, although there's always room for them to grow." Later that year, the Education Department put a hold on the funding, saying it hadn't been aware of all the problems in the Ohio program.
-Steve Straehley
To Learn More: