Argentina's Ambassador to the United States: Who Is Martín Lousteau?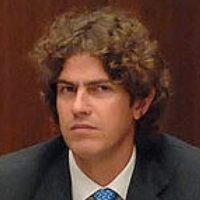 Martin Lousteau
Economist Martín Lousteau was appointed on Dec. 2, 2015 to be Argentina's ambassador to the United States. It's the first diplomatic post for Lousteau.
Lousteau was born Dec. 8, 1970, in Buenos Aires. His father, Guillermo, was a professor of constitutional law at the University of Buenos Aires who currently heads the InterAmerican Institute for Democracy in Miami. His mother, Mabel, is an architect and his sister, Mary, is an attorney. For secondary school, Lousteau attended Colegio Nacional de Buenos Aires, graduating in 1989.
He earned a B.A. in economics at the Universidad de San Andres and continued his education at the London School of Economics and Political Science, earning an M.S. in economics. Lousteau was a graduate teacher at San Andres and at Universidad Torcuato Di Tella, but also worked as a club tennis pro until being injured. Prior to the 9/11 attacks, he worked as a journalist in Afghanistan for two magazines, El Planeta Urbano and La Razón.
Lousteau accomplished a great deal at a young age. By 2003, he was working in government, first as an adviser to the governor of Argentina's central bank and beginning in 2005 as the Minister of Production in the province of Buenos Aires. That same year he published a book—Sin Atajos (No Shortcuts, written with Javier Gonzalez Fraga)—about Argentina's economic crises. Lousteau wrote a follows-up book, Hacia un Federalismo Solidario (Toward a Cooperative Federalism). In 2006 he became chairman of Banco de Provincia de Buenos Aires and of the Bapro SA group.
In December 2007, Lousteau became the first finance minister in the administration of President Cristina Fernández de Kirchner. At age 37, he was the youngest person to hold that post in more than 50 years. His tenure there was a short one, however. Lousteau increased soybean export taxes, a move that caused protests in the countryside. Lousteau resigned in April 2008.
At that point, Lousteau started an economic consulting business. He wrote columns for the conservative La Nación and published two books on economic theory and history, Economía 3-D in 2011 and Otra Vuelta a la Economía (Another Return to the Economy) in 2012. Lousteau became a member of Argentina's parliament in 2013 and ran an unsuccessful mayoral campaign in Buenos Aires in 2015.
While doing a fellowship at Yale in 2012, Lousteau married the Argentine actress Carla Peterson. They have a son, Gaspar.
-Steve Straehley
To Learn More:
Martín Lousteau (Wikipedia)