Ambassador to the United States from Indonesia: Who Is Budi Bowoleksono?
Saturday, September 13, 2014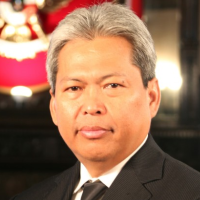 Budi Bowoleksono was appointed to be Indonesia's ambassador to the United States in February, 2014. It's the second ambassadorial posting for Bowoleksono.
Bowoleksono graduated from Jakarta's Krisnadwipayana University in 1984 and began his career with Indonesia's Ministry of Foreign Affairs in 1986. He has had several assignments to the United Nations, including its missions in Vienna, Austria; Geneva, Switzerland; and its New York headquarters.
Within the Ministry of Foreign Affairs, Bowoleksono worked in the directorates of foreign economic relations, multilateral affairs, ASEAN (Association of Southeast Asian Nations) cooperation and the Secretariat General.
After a stint as deputy director general for Multilateral Affairs, in 2008 Bowoleksono was assigned his first ambassadorial post in Kenya, with responsibility for Seychelles, Mauritius and Uganda, in addition to the United Nations Environment Program and the U.N. High Commission for Refugees. He returned home in 2010 to serve as secretary general in the Ministry of Foreign Affairs. During that time, the Edward Snowden documents revealed that the Australians were using some of their embassies, including the one in Jakarta, for spying activities. Bowoleksono was the official who conveyed his government's concern about this to the Australian ambassador.
A less serious duty while Secretary General was his enthusiasm for spreading the word about Indonesian cuisine. Bowoleksono said all personnel at Indonesian missions were responsible for "food diplomacy," hoping to induce curiosity about Indonesia through its cuisine and thus drawing tourism and business.
Bowoleksono and his wife, Reshanty, have a son.
-Steve Straehley
To Learn More: