Ambassador to Senegal and Guinea-Bissau: Who is Lewis Lukens?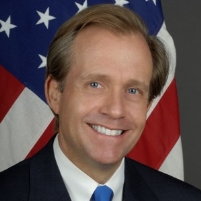 His father, Alan W. Lukens, served as U.S. ambassador to the Republic of Congo (Brazzaville) from 1984 to 1987, having previously served as consul in Brazzaville 1960-1961. Alan Lukens' wife, children and mother were killed in a plane crash in the Central African Republic. Lewis Lukens was born to Alan and his second wife, Susan.
Following his father, Lukens, as a child, also lived in Morocco, Kenya and Denmark. Lukens graduated from St. Paul Catholic School in Princeton, New Jersey in 1982 and earned his bachelor's degree in history in 1986 from Princeton University. He returned to Princeton in 2002 and earned a masters in public policy.
Prior to becoming ambassador, Lukens returned to the State Department's Executive Secretariat, this time as executive director managing the office that provides travel, information technology, human resource, budget, security, and contracting support to the secretary of state and other State Department leaders.
Lukens and his wife, Lucy, have two daughters.
-Noel Brinkerhoff, David Wallechinsky