Ambassador to Luxembourg: Who Is David McKean?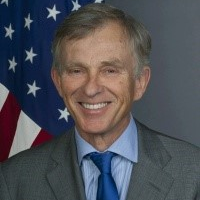 David McKean
David McKean, a long-time assistant to Secretary of State John Kerry, on March 14, 2016, was sworn in as the Ambassador to Luxembourg.
McKean is from Massachusetts; he was born in Beverly and grew up in South Hamilton. His father, Shaw, was an investor and his mother, the former Katherine Winthrop, was a top-ranked tennis player in the 1930s and '40s. At the age of 14, McKean began boarding school and graduated from Phillips Exeter Academy. He went on to Harvard, graduating in 1980. While there, McKean interned for former Senator Paul Tsongas (D-Massachusetts).
After graduation, McKean taught at the Waterford Kamhlaba School in Swaziland from 1981 to 1982. The school was attended by the children of Nelson Mandela and Bishop Desmond Tutu. Upon his return, McKean went to law school at Duke and Tufts' Fletcher School of Diplomacy, graduating from both in 1986.
The following year, McKean began work as a legislative assistant for Kerry, who had won Tsongas' seat, and who is a distant relative of McKean. Much of his work there involved Kerry's investigation of the BCCI banking scandal. Among those caught up in the mess was Clark Clifford, an advisor to five U.S. presidents. McKean, along with Douglas Franz, in 1995 wrote a book, "Friends in High Places," about Clifford and his role in the scandal. In addition to mining information for his book, McKean also found a wife, Kathleen, a former model who also worked in Kerry's office.
In 1994, McKean moved over to the House as chief of staff for Rep. Joseph P. Kennedy (D-Massachusetts). The following year, McKean was made special counsel for the Commodities Futures Trading Commission and returned to the Senate in 1997 as the minority staff director of the Senate Permanent Subcommittee on Investigations.
McKean went back to work for Kerry in 1999, this time as the senator's chief of staff. He was also deeply involved in Kerry's 2004 presidential primary campaign and was to be on his transition team. In 2009, he became staff director of the Senate Foreign Relations Committee, and brought in his one-time co-author Franz, who had been managing editor of the Los Angeles Times, in as chief investigator.
McKean left government the following year after being named CEO of the John F. Kennedy Library Foundation in Boston. He stayed in that job only a couple years, moving to the Woodrow Wilson International Center for Scholars as a public policy scholar in 2011.
The following year, McKean went back into government, this time in the State Department as senior advisor to then-Secretary Hillary Clinton for the Quadrennial Diplomacy and Development Review. The review is a joint effort of the State Department and U.S. Agency for International Development that identifies global trends that could result in opportunities or threats.
Later in 2012, McKean was reunited with Kerry, by this time Secretary of State, as his Director of Policy Planning, where he served until his nomination as Ambassador.
McKean has written two other books, "Tommy the Cork: Washington's Ultimate Insider from Roosevelt to Reagan;" and with his Harvard roommate Cliff Sloan, "The Great Decision: Jefferson, Adams, Marshall, and the Battle for the Supreme Court."
McKean and his wife have three children.
-Steve Straehley
To Learn More:
John Kerry's 'Alter Ego' (by Laura Blumenfeld, Washington Post)