Ambassador to Burundi: Who is Pamela Slutz?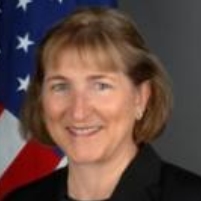 For Pamela J. H. Slutz, who was sworn in as the U.S. ambassador to
Burundi
on November 2, 2009, the Foreign Service has quite literally been a lifetime experience.
Slutz grew up in the Foreign Service as a "diplobrat," thanks to her father, Robert Fleming Slutz Jr., who was a Foreign Service officer. From the age of 7 to 15, she lived in
Thailand
.
A graduate of Hollins University in Virginia with a Bachelor of Arts in politics, Slutz also attended the University of Hawaii, where she was an East-West Center Fellow and specialized in Indonesian history, language and politics as part of her Master of Arts in Asian studies and political science (1972).
She joined the
State Department
in 1981 and was commissioned as a Foreign Service officer in 1984.
Her early assignments were in the State Department's Office of Korea Affairs (1981-1982), followed by overseas postings in Kinshasa, Zaire [Congo] (1982-1984) and Jakarta,
Indonesia
(1984-1987).
From 1987-1989, she served as a member of the U.S. delegation to the Nuclear and Space Talks with the Soviet Union. She then served as consul general in Shanghai,
China
(1991-1994), in the State Department's Office of China and Mongolia Affairs (1995-1997), including as acting director, and in the Office of East Asian and Pacific Regional Security and Policy Planning (1997-1999).
Her first ambassadorial assignment came in 2003, when President George W. Bush nominated her to serve as U.S. ambassador to
Mongolia
. During her posting, Slutz hosted the first-ever visits to Mongolia by a sitting president and first lady, a secretary of defense and a speaker of the House. She also helped channel assistance to the first-ever shelter for abused women in Ulaanbaatar and, as a native Texan, co-hosted an exhibition called "The Open Range: Shared American and Mongolian Perspectives."
It was then off to
Kenya
in October 2006, where she was the deputy chief of mission in Nairobi. In this capacity she oversaw the operations of the largest U.S. embassy in sub-Saharan Africa, with more than 1,400 employees. She remained in Kenya until her appointment to become ambassador to Burundi.
Slutz speaks French, Indonesian and Mandarin. She and her husband, retired Foreign Service officer Ronald Deutch, have two sons and five grandchildren.
-Noel Brinkerhoff