Ambassador to Burma: Who Is Scot Marciel?
Monday, February 29, 2016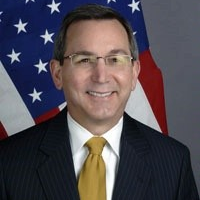 Scot Marciel
Scot Marciel, a career member of the Foreign Service, was nominated in October 2015, to be the next ambassador to Burma. The Senate Foreign Affairs Committee approved his nomination the following January 28. If Marciel is approved by the full Senate, it will be his second ambassadorial post.
After growing up in Fremont, California, where he graduated from Mission San Jose High School in 1976, Marciel attended the University of California at Davis (Bachelor of Arts) and the Fletcher School of Law and Diplomacy at Tufts University (Master of Arts, 1983).
After working as editor of staff publications for the National Center for Export-Import Studies at Georgetown University, he joined the State Department in 1985.
In August 1993, Marciel became the first U.S. diplomat to be posted to Hanoi since the end of the Vietnam War. There, he worked on finding remains of American servicemen.
Marciel subsequently served in the Philippines, working in the consular office, There he met Mae, the woman who would become his wife. In the late 1990s he was trade policy officer at the U.S. consulate in Hong Kong. He also served in Brazil, and as economic counselor in Turkey, as well as in the Economic Bureau's Office of Monetary Affairs.
More recently, he has served as director of the State Department's Office of Maritime Southeast Asia, director of the Office of Mainland Southeast Asia and director of the Office of Southeastern Europe.
Prior to becoming ambassador to Indonesia, Marciel was the deputy assistant secretary in the East Asia and Pacific Bureau, responsible for relations with Southeast Asia, and the ambassador for ASEAN affairs.
He took over as U.S. ambassador to Indonesia on August 16, 2010. In March 2011, Marciel had to deal with the fallout from the WikiLeaks release of State Department cables that accused Indonesian President Susilo Bambang Yudhoyono of corruption and abuse of power, including using the national intelligence service to spy on his political rivals. He also helped Boeing sell $23 billion worth of planes to an Indonesian airline.
He returned to Washington in 2013 to serve as principal deputy assistant secretary for East Asian and Pacific Affairs, a position he held while awaiting confirmation to the Burma post.
Marciel speaks Portuguese and Vietnamese. He and his wife have two daughters.
-Noel Brinkerhoff, David Wallechinsky
To Learn More: