Ambassador from Colombia: Who is Gabriel Silva?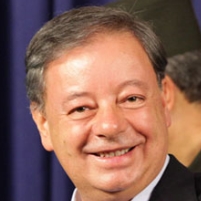 Silva was born on October 5, 1957, in Barranquilla. One of nine children, he completed his secondary education at the Colegio San Carlos. He received his undergraduate degree in political science from the University of the Andes in Bogotá, and then earned his graduate degree in economics and international relations from the Paul H. Nitze School of Advanced International Studies at Johns Hopkins University. He also was an honorary fellow of the Ford Foundation.
His work in the public sector began in 1986, when he became a political advisor to President Virgilio Barco.
Between 1990 and 1993, Silva served as an advisor on international politics to President César Gaviria.
In 1994, he was named ambassador to the United States and worked to promote the Andean Trade Preference Agreement, as well as numerous economic and security issues affecting the bilateral relationship between the two nations.
From 1995 to 2002, Silva pursued several business projects, including co-founding PetroColombia SA,, and in 1996, the Newbridge Andean Partners investment fund. He was also the founding president of the Barbados-based Global Tuition and Education Insurance Corporation and Global Life Insurance SA.
Silva returned to government service in August 2009, becoming minister of defense under President Álvaro Uribe.
Silva and his wife, Mariana Espinosa de Silva, have four children.
-Noel Brinkerhoff