Administrator of the U.S. Agency for International Development: Who Is Gayle Smith?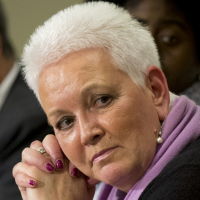 Gayle E. Smith, a member of the National Security Council staff, was nominated on April 30, 2015, by President Barack Obama to lead the U.S. Agency for International Development (USAID).
Smith, who was 59 when she was nominated, is from Bexley, Ohio. She attended Bexley High School, where she was a cheerleader, and graduated in 1974. She went on to earn a B.A. from the University of Colorado.
Smith worked in the Horn of Africa as a freelance journalist during the war and famine of the 1980s. She was particularly close to Meles Zenawi, who led the Tigrayan Peoples' Liberation Front and the Ethiopian People's Revolutionary Democratic Front, was president of that country's transitional government beginning in 1991 and became prime minister in 1995. Meles remained in power as Ethiopia's dictator until his death in 2012.
An article Smith wrote in May 1983 appeared to defend the kidnapping of 10 westerners by the Tigrayan Peoples' Liberation Front as a way to get publicity.
By 1986, Smith was a development consultant for the Relief Society of Tigray, a province of northern Ethiopia. She later joined The Development Group for Alternative Policies, a non-profit organization devoted to development.
Smith first worked for USAID in 1994, as senior advisor to the administrator and chief of staff and as special representative for the Horn of Africa. She moved into the White House in 1998 as senior Africa director for President Bill Clinton.
When the George W. Bush administration took over in 2001, Smith joined the Center for American Progress, a left-leaning think tank, as a senior fellow. There she led the Sustainable Security Project and co-founded the ENOUGH Project, which focuses on ending genocide and crimes against humanity and the Modernizing Foreign Assistance Network, which attempts to maximize U.S. foreign aid impact. From 2005 to 2007, Smith also worked for the Clinton Global Initiative, the organization founded by former President Clinton.
Smith joined the Obama administration in 2009 as special assistant to the president and senior director for development and democracy on the National Security Council staff, with responsibility for global development, democracy, and humanitarian assistance issues. She is a longtime associate of Susan Rice, Obama's national security advisor.
-Steve Straehley
To Learn More:
Gayle Smith Praises Meles Zenawi at Memorial (video)
Ethiopia and the Politics of Famine Relief (by Gayle Smith, Middle East Research and Information Project)