Administrator of the National Agricultural Statistics Service: Who Is Hubert Hamer?
Thursday, January 05, 2017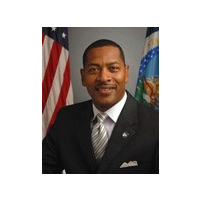 Hubert Hamer
Hubert Hamer, a long-time employee of the National Agricultural Statistics Service (NASS), was appointed to lead the agency in April 2016.
Hamer was born on a farm in Benton County, Mississippi, but grew up in Grand Junction, Tenn. He attended Tennessee State University, graduating in 1980 with a bachelor's degree in agricultural science.
Early in his career with NASS, Hamer worked in Louisiana, Illinois and as assistant to the director of the statistics division. As part of a training program for promising administrators, Hamer also was a fellow on the Senate Budget Committee and worked on the staff of the Secretary of Agriculture. By the late 1990s, he was in charge of NASS' Missouri office.
In 2000, Hamer was made associate deputy administrator for field operations, where he oversaw 24 field offices. He moved up to be chair of the Agricultural Statistics Board in 2010, leading the publishing of market-sensitive crop reports. He remained there until being named to lead the agency.
-Steve Straehley
To Learn More: