Administrator of Rural Development Housing and Community Facilities Programs: Who Is Tony Hernandez?
Saturday, November 29, 2014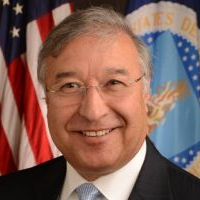 Tony Hernandez was sworn in as administrator of the U.S. Department of Agriculture's Rural Development Housing and Community Facilities Programs on December 16, 2013. It's a return to federal service for Hernandez, who previously worked for the Department of Housing and Urban Development (HUD).
Hernandez is from Denver and graduated from West High School there. While at West, Hernandez participated in a program called Upward Bound, which was focused on those who would be the first in their families to attend college. Hernandez completed the program, which involved extra classes during the school year and in the summer, and went on to attend Colorado State University. He graduated in 1973 with a Bachelor of Social Work degree.
Hernandez continued his education at the University of Denver, earning a Master's degree in community organizing and social planning in 1975 and went on to earn another Master's, this one in management and public policy, from Carnegie-Mellon University in 1981.
After that, Hernandez took a job at IBM as aplanner executive consultant and account representative. In 1984, he won a seat in the Colorado Legislature, representing west Denver. In Colorado, legislators work part time, so Hernandez remained at IBM until January 1994. That's when he left IBM, and the legislature, to become the HUD regional administrator for Colorado, Montana, North and South Dakota, Utah and Wyoming. In July 1998, Hernandez took over as director of the Colorado Community Business Center for Fannie Mae, facilitating housing and community development. He remained in that post for more than nine years.
Hernandez was chosen to be director of Colorado's Division of Local Government in 2007, a position he held for more than five and a half years. He managed development programs for rural communities in the state, serving until taking over at the Rural Housing Service.
Hernandez and his wife, writer Virginia Sanchez, have a son, Eric. Hernandez speaks Spanish.
-Steve Straehley
To Learn More:
Making a Difference in Rural America (by Tony Hernandez)