Acting Head of the Centers for Medicare & Medicaid Services: Who Is Andrew Slavitt?
Sunday, November 22, 2015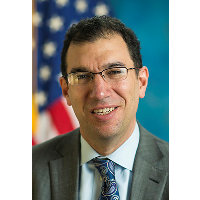 Andrew Slavitt
Andrew Slavitt, who worked in the healthcare industry for much of his career, was named in February 2015 as the acting head of the Centers for Medicare & Medicaid Services (CMS). On July 9 of that year, President Barack Obama nominated Slavitt to be administrator of CMS.
Slavitt is from Evanston, Illinois, where his father Earl was an attorney. Slavitt graduated from Evanston High School in 1984 and followed in his father's footsteps to the University of Pennsylvania. He graduated from Penn in 1988 with degrees from the College of Arts and Science and the Wharton School and went on to earn an MBA from Harvard.
Slavitt initially went into investment banking, working for Goldman Sachs. Beginning in 1993, he was an associate at management consulting firm McKinsey & Co. He left in 1995 to become chief operating officer of Paula Financial, an insurance underwriter.
Slavitt switched gears in his career as a result of a tragedy. A college roommate died of a brain tumor and his widow was left with substantial medical bills despite the family having health insurance. Slavitt founded HealthAllies, a health-care shopping company, getting health-care providers to offer their services to patients for the same prices they did to insurance companies. UnitedHealth Group acquired HealthAllies in 2004 by and Slavitt began climbing the ladder there. In 2005 he moved over to Ingenix, now OptumInsight, the UnitedHealth division that provides IT services to the health-care industry, and became its CEO in 2006. In 2011 he became group executive vice president for Optum. He took time out to help fix Healthcare.gov after its shaky rollout. (He personally tried to create an account during the rollout, but it didn't work for him—he never got a confirmation email.)
Slavitt joined CMS in 2014 as Principal Deputy Administrator, having to get an "ethics waiver" from the Obama administration policy of industry executives not working for government. As he awaits confirmation, Slavitt has taken criticism from some in Congress, particularly Sen. Orrin Hatch (R-Utah) for conflicts of interest that his appointment would create. The liberal group Public Citizen also has questioned the appropriateness of the nomination.
Slavitt was based in Minnesota before his government appointment and still lives there, going home on weekends when he can. He and his wife, Lana, have two sons, Caleb and Zachary. Slavitt also serves as a director of the Special Olympics.
-Steve Straehley
To Learn More: