Acting Director of the Office of Personnel Management: Who Is Beth Cobert?
Saturday, November 07, 2015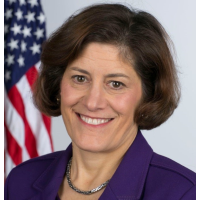 Beth Cobert
Beth Cobert, who had been Deputy Director for Management at the Office of Management and Budget (OMB), took over July 11, 2015, as acting Director of the Office of Personnel Management. The job came open when Director Katherine Archuleta quit under fire because of two massive data breaches involving 22 million people, including federal employees and those on whom background checks had been done. (Cobert was one of those whose personal data was stolen.)
Cobert is from Montclair, New Jersey, where her father, Maxwell, was a senior vice president of a fabric company and her mother, Shirley, was a freelance editor. Cobert graduated from Montclair High School in 1976. She stayed close to home in college, attending Princeton and earning a bachelor's degree in economics in 1980.
Cobert worked for a time at investment bankers Goldman Sachs in its corporate finance division, but left to earn her MBA at Stanford. She graduated from that school in 1984 and went to work for McKinsey & Co. consultants in New York. McKinsey is regarded by many in the business world as the most reputable, elite firm of its kind. The firm provides all kinds of advice to its corporate and public-sector clients, including how to approach downsizing. Cobert specialized in the financial services, telecommunications, and health-care industries. In 1994, she moved to McKinsey's San Francisco office, where she remained for the rest of her tenure. She was a director and senior partner of the firm before she left in 2013 to join the federal government.
Cobert was confirmed October 16, 2013, as OMB's deputy director. While there, she urged changes in federal hiring practices, including considering the hiring of younger employees for shorter terms, putting hiring in the hands of the line departments instead of a human resources group, and instituting continuing training.
Cobert married Adam Cioth, who at the time worked for Goldman Sachs, in 1987. Cioth went on to found a venture capital firm, Rolling Hills Capital. He's now on the board of Students for Education Reform, an "astroturf" lobbying group (a "synthetic" grassroots movement) backing charter schools and taking power from teachers' unions. They have a son and a daughter.
-Steve Straehley