Acting Director of the Indian Health Service: Who Is Robert G. McSwain?
Saturday, November 21, 2015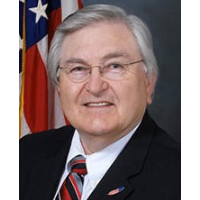 Robert G. McSwain
Robert McSwain, who is Deputy Director of the Indian Health Service (IHS), was named in February 2015 as Acting Director of the agency. McSwain was IHS Director at the end of the George W. Bush administration. He was asked to fill in again because the Senate did not confirm Dr. Yvette Roubideaux for a second term to lead IHS and she had served as Acting Director as long as legally allowed.
Born August 25, 1945, McSwain was raised by his grandparents and grew up in California's Central Valley. He is a member of the North Fork Rancheria of Mono Indians of California. McSwain graduated from Sierra Joint Union High School in Tollhouse, California, outside Fresno, in 1963. He went on to earn an AS degree in accounting from Fresno City College and a BS in business administration from California State University, Fresno, in 1969
McSwain worked for a short time as an office manager at a construction firm in Visalia, California, after graduation, but in 1971 began working in Indian health as Director of the Central Valley Indian Health Program in Clovis, California. In 1974, he was named Executive Director of the California Rural Indian Health Board in Sacramento.
McSwain joined IHS in 1976 as director of the agency's California Area Office. In 1984, he was made senior adviser to the director and given time to work on his master's in public administration with an emphasis in health services administration from the University of Southern California, which he earned in 1986. That year, he was brought to IHS headquarters in Rockville, Maryland, initially as Director of the Division of Health Manpower and Training and began climbing the agency's management ladder. Two years later, he was made Deputy Associate Director in the Office of Administration and Management. McSwain was named Associate Director in the Office of Human Resources and in 1997 was made Director of the Office of Management Support.
In 2004, McSwain was made Acting Deputy Director for management operations and the following year was made Deputy Director of IHS. Beginning in 2007, he served as the agency's Acting Director and the following year was confirmed by the Senate as Director. During his tenure, he came under fire from Congress for mismanagement of the agency. One example was a Government Accountability Office investigation that showed almost $16 million worth of equipment and other types of property could not be accounted for. McSwain claimed the charges were overblown.
McSwain served as Director until 2009, when Roubideaux was put in charge of the agency and McSwain reverted to Deputy Director.
McSwain is married to June Clydene McSwain. He has three children — daughters Kristin and Elizabeth and son Eric.
-Steve Straehley
To Learn More: