Acting Administrator of the Rural Utilities Service: Who Is Jasper Schneider?
Saturday, November 15, 2014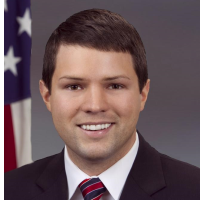 Jasper Schneider was appointed to lead the U.S. Department of Agriculture's (USDA) Rural Utilities Service in October 2014, moving to Washington from his post as the USDA's North Dakota's director for rural development.
Schneider was born June 20, 1979, in Fargo, North Dakota, and grew up around politics. His father, John, was a North Dakota state legislator and speaker of the house who was subsequently appointed to be the state's U.S. attorney by President Bill Clinton. Schneider played in the halls of the North Dakota statehouse as a child. He graduated from Fargo South High School, where he played three sports and edited the school newspaper and yearbook. He then attended Jamestown (North Dakota) College, where he earned a bachelor's degree in 2000.
Schneider hadn't planned to go into public service. He started a successful website, Sudhian Media, while in college and began working for Cisco Systems as a marketing business analyst upon graduation. But his father had died of brain cancer while Schneider was in college. He later said he wanted to help carry on his family's public service tradition and went to law school, earning his J.D. from Hamline University in St. Paul, Minnesota, in 2004.
He worked at the family law firm (his uncle and cousin are also attorneys) beginning in 2005. The following year, Schneider ran for and won a seat in the North Dakota legislature—his father's old seat. In 2008, he staged what was ultimately a losing campaign to be elected as the state's insurance commissioner, falling by such a small margin that he could have demanded a recount, but instead conceded the race to his opponent. During this period, he also worked in the Fargo office of Sen. Kent Conrad (D) as a legal counsel and was an adjunct professor of mass media law at Minnesota State University at Moorhead. Schneider left the legislature in November 2009 to become state director of USDA Rural Development in North Dakota, a post he held for five years.
Schneider is seen as an up-and-comer in North Dakota Democratic political circles and has been talked about as a possible opponent to the state's lone Congressman, Rep. Kevin Cramer (R).
Schneider and his wife, Kim, have four children, Jack, Elise, Grant and Gabrielle.
-Steve Straehley
To Learn More