Acting Administrator of the National Ocean Service: Who Is Russell Callender?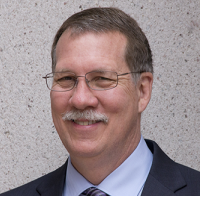 W. Russell Callender took over as acting assistant administrator in charge of the National Ocean Service in November 2014, capping a long career with the National Oceanic and Atmospheric Administration (NOAA).
Callender is from Houston and attended Stephen F. Austin State University in Nacogdoches, Texas, where he earned bachelor's and master's degrees in geology. After leaving Stephen F. Austin in 1985, Callender went to Texas A&M University to study deep sea benthic paleoecology, the use of fossils from the bottom of the ocean to study past ecosystems, and marine geology. He earned his Ph.D. in 1992.
Callender worked with the Department of the Navy on issues including logistics support in Antarctica and icebreaker requirements. He also directed the headquarters science and policy office at the Office of Oceanic and Atmospheric Research and served as assistant director for the Virginia Sea Grant Program at the University of Virginia.
In 2003, Callender was named director of NOAA's Center for Coastal Monitoring and Assessment, where he worked on chemical contaminant monitoring, coral reef mapping and monitoring, marine protected area assessments, and coastal remote sensing. In 2005 he oversaw the monitoring of contamination caused by Hurricane Katrina.
Callender was named deputy director for NOAA's National Centers for Coastal Ocean Science in 2009 and was named director in 2012. His responsibilities included dealing with harmful algal blooms; contaminant monitoring and impact assessments on coastal ecosystems and research on how sea level, ocean chemistry, and temperature changes affect coastal ecosystems. He worked on NOAA's response to the BP Deepwater Horizon oil disaster in 2010.
In 2013, Callender was appointed deputy assistant administrator for the National Ocean Service and took over the agency the following year.
-Steve Straehley
To Learn More: