Acting Administrator of the Health Resources and Services Administration: Who Is Jim Macrae?
Saturday, October 31, 2015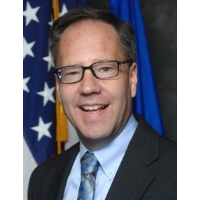 Jim Macrae
Jim Macrae, a long-time employee of the Department of Health and Human Services (HHS), became acting administrator of the Health Resources and Services Administration (HRSA) in April 2015 upon the departure of Mary Wakefield to become acting Deputy Director of HHS.
Macrae attended Illinois Wesleyan University, graduating in 1986 with a BA in sociology. He followed that up with a master's degree in the same subject from Duke University and subsequently earned a master's in public policy from Harvard.
His first job with HHS was as a presidential management intern, working with Medicare and Medicaid programs and in the Office of Planning and Evaluation.
In 1992, Macrae became a regular employee of the department, working in the Bureau of Primary Care. The bureau works to provide primary medical care, particularly preventative care, for underserved populations through neighborhood clinics. Macrae rose to be Director of the Office of State and National Partnerships in the bureau.
In 2000, Macrae became Associate Administrator for the Office of Performance Review in HRSA, overseeing agency staff around the country. He returned to the Bureau of Primary Care in 2006, this time as its leader, managing a $5 billion budget that supports the health-care safety net for millions of people. He also oversaw the School-Based Health Center Capital Program, which provides funding for equipment for school-based health centers. He held that job until becoming HRSA's acting administrator.
-Steve Straehley
To Learn More: