Hire Donald Trump for Your Wedding!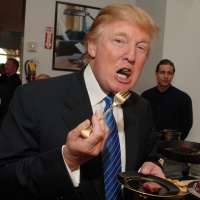 (photo: Stephen Lovekin, GettyImages)
Former President Available for Weddings!!!
If you want to put some excitement into your wedding celebration, hire Donald Trump to speak! No size too small—and he promises to mention the names of the bride and groom at least once.
In addition to his standard rant, he will denounce any of your personal enemies at your request.
All payments must be made in advance and only the highest bidders with be accepted. If you want Melania to appear, you have to pay triple.
Interested parties should contact paymydebts@45office.com
-David Wallechinsky
(satire)