Trump Claims God Told Him to Deport his Wife, Melania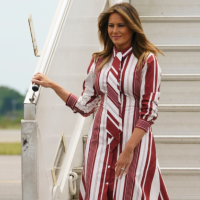 (photo: Carolyn Kaster, Shutterstock)
President Donald Trump announced via Twitter, after a prayer session with Vice-President Mike Pence and Trump's spiritual advisor, Franklin Graham, that God told him to deport his wife, Melania.
"We've been deporting legal citizens because they lied back when they arrived in the US," wrote Trump. "Melania worked as a model before she received a work permit. Send her back."
Melania was put on a special deportation plane to Slovenia. In a panic, former Attorney General Jeff Sessions and Trump's racism advisor, Stephen Miller, hurried to the White House to confront the president, only to discover that he was out playing golf. Finding President Trump tossing a golf ball out of the rough, Sessions and Miller explained to Trump that the original deportation protocol was not intended to pertain to white people, so Mrs. Trump was immune. They urged him to order the airplane to turn back before it reached Slovenia.
Trump considered their argument for a few seconds, shrugged and said, "I'm never wrong."
When the plane landed in Ljubljana, Melania, smiling, emerged and told the large crowd of reporters, "Ne skrbite. Imam dober predporočni dogovor." [Don't worry. I have a good pre-nuptial agreement.] She was accompanied by her parents, who had acquired U.S. citizenship through chain migration, but preferred to remain with their daughter.
Back at Mar-a-Lago, White House Press Secretary Stephanie Graham announced that she was resigning and flying to Slovenia to rejoin Melania Trump, for whom she had worked for more than two years. She noted, before she left, that the president will be holding a special healthcare conference to which only NFL cheerleaders will be invited.
-David Wallechinsky
(satire)