Chairman of the National Labor Relations Board: Who Is John Ring?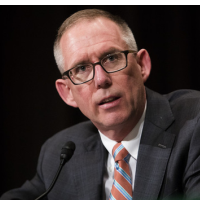 John Ring (photo: Diego M. Radzinschi / NLJ)
John Francis Ring, an attorney who has represented large corporations in their disagreements with their workers, was confirmed, with a party-line vote of 50-48, April 11, 2018, to be a member of the National Labor Relations Board (NLRB). On April 16, he was sworn in as the board's chairman. The NLRB's mission, since 1935, has been to enforce the National Labor Relations Act, which reinforces the rights of employees to bargain collectively. Like one of his recent predecessors, Philip Miscimarra, Ring was a partner in the law firm of Morgan Lewis and Bockius, which began representing Donald Trump in 2005.
Ring is originally from Clinton, Connecticut, son of Vincent and Lucille Ring. His mother was a teacher and employee of AT&T. His father was a computer systems consultant and real estate agent. After graduating from high school, John Ring moved to Washington to attend Catholic University. He earned a B.A. in 1985 and his law degree from the same institution in 1989.
While in college, Ring worked as a staff assistant for the International Brotherhood of Teamsters. His backers say that gives him a perspective from the workers' point of view. He eventually spent more than six years with the Teamsters. After graduation from law school however, Ring joined the Washington law firm of Morgan Lewis and Bockius as an attorney representing management. He made partner in 1999.
Among his clients have been the American Trucking Associations, Pratt & Whitney, Marriott International and several ocean shipping companies. Ring's biography boasts that he has had "extensive dealings with reduction-in-force issues," that is, layoffs.
During his confirmation hearing, Sen. Patty Murray (D-Washington) pointed out that Ring had regularly worked to hurt employees on behalf of his clients. "The last thing our nation's labor board needs is another champion for those at the top," Murray told Ring. "You've spent your years representing companies, not workers.…You've encouraged the board to undermine long-established rights." Employer groups such as the National Restaurant Association lauded Ring's nomination.
In January 2014, Ring was chosen to be president and chair of the board of directors of the Friends of the National Zoo. Ring is the father of three children.
-Steve Straehley
To Learn More:
Testimony to the Senate Health, Education, Labor and Pensions Committee (pdf)
Senators Grill NLRB Nominee About Potential Conflicts of Interest (by Allen Smith, Society of Human Resource Management)