Assistant Secretary of State for Western Hemisphere Affairs: Who Is Kimberly Breier?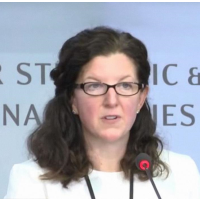 Kimberly Breier (photo: CSIS)
President Donald Trump on March 5, 2018, announced a new leader for the Bureau of Western Hemisphere Affairs. Kimberly Breier, considered a moderate Republican, has extensive experience in U.S. policy toward Latin America. Since June 2017, she has served as Western Hemisphere member of the Office of Policy Planning in the State Department. If confirmed by the Senate, Breier would succeed Roberta S. Jacobson, who served from 2012 until 2016, when she was appointed ambassador to Mexico.
Born September 12, 1972, to William and Suzanne Healey, Kimberly Healey Breier graduated Marblehead High School in Marblehead, Massachusetts, in 1990. She went on to earn a B.A. in Spanish at Middlebury College in 1994 and an M.A. in Latin American Studies at Georgetown University in 1997.
Breier's first career job was as director of the North American Committee at the now-defunct National Policy Association, a pro-business think tank, from September 1997 to September 1999.
She then spent six months, September 1999 to February 2000, at the National Endowment for Democracy, a Washington D.C-based quasi-governmental organization funded by the U.S. that tries to influence politics in foreign countries toward a more pro-U.S. tilt.
Breier began more than a decade of public service for the U.S. Government intelligence community as senior political analyst for Latin America from March 2000 to January 2005. She produced written and oral briefs for policymakers in both the executive branch and the U.S. Senate covering several Latin American countries.
Breier went to work for the George W. Bush White House in January 2005, serving as director for Western Hemisphere Affairs at the National Security Council through June 2006. She served as director for Mexico and Canada, director for Brazil and the Southern Cone, and interim director for the Andean region.
In January 2007, she became the senior political analyst for a "key Middle Eastern country" until May 2009, when she was promoted to manager and worked on creating and running what she describes as "the first-ever analytic tradecraft team covering a high-profile country in the Middle East."
Breier left government service in January 2012 to work for the consulting firm Peschard-Sverdrup International. She performed country risk assessments on Argentina, Chile, and Mexico for three mining companies: Capstone Mining Corp., Goldcorp Inc., and Royal Gold. She left in June 2016.
From June 2016 to June 2017, Breier was director of the US-Mexico Futures Initiative and deputy director of the Americas Program at the Center for Strategic and International Studies (CSIS), a Washington-based think tank.
Since May 2013, Breier has been a business enterprise consultant for Threat Pattern, which according to its co-founder, Blake Mobley, uses "intelligence and counterintelligence analysis techniques to protect corporate brands and assets—everything from their computer networks to their reputation.…we collect and analyze information from enormous data clearinghouses, like social media platforms, consumer behavior databases, and public records to unearth trends and patterns."
Kimberly Breier is married to Peter Breier, who is a senior associate at Beltway consulting company Booz Allen Hamilton.
-Matt Bewig
To Learn More:
Trump to Pick Mexico Expert as Next Assistant Secretary for Western Hemisphere Affairs (by Franco Ordoñez, McClatchy)
Public Financial Disclosure Report (OGE Form 278e)