U.S. Ambassador to Argentina: Who Is Edward Prado?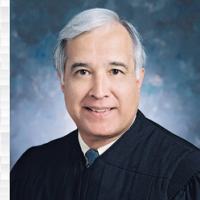 Edward Prado
Edward Charles Prado, who has decades of experience as a federal judge but no background in diplomacy, was nominated January 17, 2018, to be the ambassador to Argentina.
Prado was born June 7, 1947, in San Antonio, Texas. The son of an upholsterer, he graduated from Edgewood High School there and went on to earn an A.A. at San Antonio College in 1967. Prado transferred to the University of Texas, where he earned a B.A. in 1969 and his law degree in 1972.
With the military draft still under way, after earning his J.D., Prado was commissioned in the U.S. Army Reserve as a second lieutenant. He remained in the reserves until 1987, retiring as a captain.
Prado's reserve commission enabled him to stay in Texas and become a Bexar County assistant district attorney in his hometown. In 1976 Prado switched sides, so to speak, becoming a federal assistant public defender in the Western District of Texas.
Prado was appointed in 1980 to an open seat as a judge in Bexar County, but lost the election when he ran later that year to keep the job. The following year however, he was appointed by then-President Ronald Reagan as the U.S. Attorney for the Western District of Texas.
Prado in 1984 was named as a judge in the Western District. In 1993, he sentenced former Congressman Albert Bustamonte (D-Texas) to 3½ years in prison in connection with influence peddling. In June 1994, Prado ruled against the National Rifle Association (NRA) in its attempt to declare the Brady Handgun Violence Prevention Act unconstitutional. The Brady Act required background checks on people who purchase firearm from federally licensed dealers. Five years later, Prado presided over a trial of 10 Mexican Mafia members. He sentenced all of them to death for murder, robbery and drug dealing. His most prominent case came during the 2000 presidential election, when he ruled that the standardized Texas high school graduation test, under then-Governor George W. Bush, was constitutional in the face of claims that it discriminated against blacks and Hispanics.
As a judge, Prado did occasionally exhibit an odd streak. For example, he began the second day of the 2000 murder-for-hire trial of millionaire Allen Blackthorne by playing the song "Happy Together" by The Turtles with these altered lyrics:
"Imagine me as God, I do
I was appointed by the President
Appointed forever
My decisions cannot be questioned by you
I'm always right."
Prado's background as a public defender served him well in the 1990s when he was appointed by Supreme Court Chief Justice William Rehnquist to lead what became known as the "Prado Commission." The group examined the federal public defender service and recommended greater independence for federal defenders and recommended that criminal defendants be given more opportunities to select among public defenders.
Prado served as a trial judge until Bush, by this time president, appointed him to the Fifth District Court of Appeals in February 2003. Prado, a moderate Republican, was easily confirmed—97-0—by the Senate, which was not the case for some of Bush's more conservative choices. In October 2012, Prado wrote the opinion that dismissed the NRA's challenge to the law prohibiting gun dealers to sell weapons to people aged 18-20. Prado also wrote an opinion in 2014 ruling that Texas banning special license plates with the Confederate flag was a violation of the First Amendment. The Supreme Court overturned that decision.
In May 2016, Prado wrote the opinion reversing Texas' law banning inmates from having 4-inch beards and religious headwear outside a cell or religious service.
In 2005, there was a short-lived "Draft Prado" movement, urging Bush to appoint him to the Supreme Court vacancy created with the retirement of Sandra Day O'Connor. Instead, Bush went with extreme corporative Samuel Alito.
Prado's appointment as ambassador is seen by some as an opportunity for President Donald Trump to add a more conservative member to the Fifth Circuit.
Prado and his wife, Maria, have one adult son, Edward. Prado speaks Spanish fluently.
-Steve Straehley
To Learn More:
Meet Edward Prado: the Next U.S. Ambassador to Argentina (by Jacob Meschke, Buenos Aires Times)
Edward C. Prado (Wikipedia)
Testimony to Senate Judiciary Committee (pages 762-784) (pdf)
Hon. Edward C. Prado: U.S. Circuit Judge, U.S. Court of Appeals for the Fifth Circuit (by Emily Judge, Federal Bar Association) (pdf)