Director of the National Oceanic and Atmospheric Administration: Who Is Barry Lee Myers?
Monday, November 06, 2017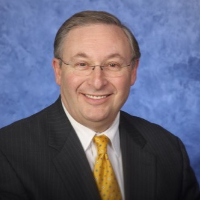 Barry Lee Meyers
Barry Lee Myers, whose company supported efforts to restrict the ability of the National Weather Service (NWS) to provide taxpayer-funded weather forecasts to the public, was nominated October 11, 2017, to lead the National Oceanic and Atmospheric Administration (NOAA), which contains NWS. NOAA, part of the Commerce Department, monitors and researches the oceanic and atmospheric environments to provide information to the public, industries, researchers, and government agencies.
Myers was born July 20, 1943, in Philadelphia, son of Martin and Doris Myers. Barry attended Penn State University, earning a B.S. in business administration and economics in 1967. He then went to Boston University to earn his J.D. in 1970 and then returned to Penn State for a master's in business management in 1972.
Myers taught at Penn State's business school for a time and remained on the faculty until 1990, but was soon part of AccuWeather, the weather company founded in State College, Pennsylvania, by Myers' brother, Joel. By 1976, Myers was executive vice president and general counsel for AccuWeather. In 2007, Barry took his brother's place as chief executive officer of the company.
The Myers brothers for years financially supported Sen. Rick Santorum (R-Pennsylvania). In 2005, Santorum introduced a bill that would have restricted NWS from providing regular weather reports to the public. Instead, it would reserve the taxpayer-funded product of NWS for use by companies such as AccuWeather. Santorum's bill was not passed.
In 2014, AccuWeather made a deal with the Chinese government to disseminate weather information there for 20 years. The agreement was made after Chinese hackers were accused of having accessed into NOAA's computers to disrupt satellite data dissemination.
If Myers is confirmed, he will be only the second leader in the agency's history not to have a background in science. "I was originally enrolled in meteorology as an undergraduate," Myers told The Wall Street Journal. "I then dropped out of school because I was a horrible student. I was never interested in learning, which I look at now as sort of funny."
Myers and his wife, Holly, have five children.
-Steve Straehley
To Learn More:
Trump Taps AccuWeather CEO to Head NOAA, Breaking with Precedent of Nominating Scientists (by Jason Samenow, Washington Post)
Trump's NOAA Nominee Signed 20-Year Weather Deal With China ... Which Is Suspected of Hacking NOAA (by Andrew Freedman, Mashable)
AccuWeather's Barry Myers Nominated to Lead NOAA (by Paul Voosen, Science Magazine)
Conflicts of Interest? NOAA's Nominees AccuWeather CEO Barry Myers, and Dr. Neil Jacobs of Panasonic (by Andrew Rosenberg, Union of Concerned Scientists)