Administrator of the Bonneville Power Administration: Who Is Elliot Mainzer?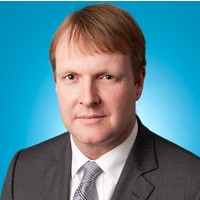 Elliot Mainzer
Elliot Mainzer, who has spent most of his career working in power generation and distribution, was appointed in January 2014 to lead the Bonneville Power Administration (BPA), one of the Power Marketing Administrations in the Department of Energy. Headquartered in Portland, Oregon, the BPA markets to the Pacific Northwest's public and private utilities as well as to some large industries. BPA provides around a third of the electricity used in the Northwest and operates more than three-fourths of the region's high-voltage transmission.
Mainzer is from San Francisco, where his father was a physician. He graduated from University High School and then attended University of California-Berkeley, where he earned a bachelor's degree in geography in 1988. While there, Mainzer spent a semester in India, where he was exposed to building infrastructure projects such as a hydroelectric installation. He traveled the world after college, including stops in Chile, Australia, New Zealand, Lesotho and South Africa. Mainzer worked in Lesotho as an activist for the International Rivers Network, which works to halt destructive river infrastructure projects. Mainzer's focus was the Katse Dam, which diverted water to South Africa's industrial areas. After returning to the United States and working for a time as a researcher at UC Berkeley, Mainzer returned to school, this time at Yale, where he earned an MBA and a master's in environmental studies in 1998.
His first job after grad school was at Enron, the power trading company that spectacularly collapsed in 2001. Mainzer worked first in Houston as manager of power structuring, and then in Portland, Oregon, establishing the company's renewable power desk.
After Enron went out of business, Mainzer went to work for BPA in April 2002, spending two and a half years as manager of pricing and transaction analysis. He continued his work to add more wind power to the electricity mix. In January 2005, he began a year and a half as a trading floor manager. Two years later, after a six-month break, he became manager of transmission policy and strategy. In October 2008, he was named executive vice president of corporate strategy. In February 2013, Mainzer was named acting deputy administrator, with responsibility for finance, strategy, legal, public affairs, risk management, compliance, governance and internal auditing.
Mainzer took over as BPA's acting administrator and CEO in July 2013 after the departure of then-administrator Bill Drummond. Drummond was suspended, and then left the agency, after a controversy involving failure to give proper preference to veterans in hiring and retaliating against whistleblowers within BPA. Mainzer was named administrator and CEO in January 2014 and is credited with restoring employees' confidence in the agency.
Mainzer's wife, Margaret, also works at BPA. They have twin sons, Matt and Ben. Mainzer enjoys playing jazz saxophone and hiking in his spare time.
-Steve Straehley
To Learn More
BPA's Elliot Mainzer on Finding Calm in a Sea of Turmoil (by Wendy Culverwell, Portland Business Journal)
Energy Department Names New Head of BPA After Hiring Scandal (Associated Press)