Which Countries have been Killing Americans? The Trump 7 vs. the Rest of the World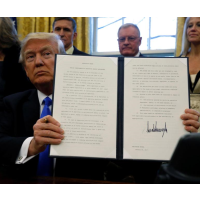 President Donald Trump Signs Executive Order Forbidding Muslims from 7 Countries from Entering U.S. (photo: Reuters)
These are the seven countries from which President Donald Trump halted entry to the United States: Iran, Iraq, Libya, Somalia, Sudan, Syria and Yemen.
Including all terrorist acts committed by terrorists who were foreign-born or whose parents were born abroad, the total number of Americans killed by terrorists from the Trump 7 is…zero.
On the other hand, terrorists from other countries have killed 2,689 Americans. Here are some examples.
9/11 Attacks on the World Trade Center, the Pentagon and the Plane that Crashed in Pennsylvania—2,605 U.S. citizens (2001) (also 372 non-Americans)
Saudi Arabia—15 hijackers
United Arab Emirates—2 hijackers
Egypt—1 hijacker
Lebanon—1 hijacker
Fort Hood Shootings—13 Americans killed (2009)
Palestine
Boston Marathon Bombing—3 Americans killed (2013)
Russia
Kyrgyzstan
Chattanooga Army Recruiting Center Shootings—5 Americans killed (2015)
Kuwait (parents—Palestinian/Jordanian)
San Bernardino Health Center Shootings—14 Americans killed (2015)
Pakistan (one of two raised in Saudi Arabia)
Orlando Pulse Nightclub Shootings—49 killed (2016)
Afghanistan (parents)
Final Total (including shared responsibility)
The Non-Trump 10 (2,689 killed):
Saudi Arabia—2,619
United Arab Emirates—2,605
Egypt—2,605
Lebanon—2,605
Afghanistan—49
Palestine--18
Pakistan—14
Kuwait—5
Russia—3
Kyrgyzstan—3
The Trump 7 (0 killed):
Iran—0
Iraq—0
Libya—0
Somalia—0
Sudan—0
Syria—0
Yemen—0
-David Wallechinsky