Wisconsin Same-Sex Mothers Held to Stricter Standard than Straight Moms for Birth Certificates, Rules Court
Monday, September 19, 2016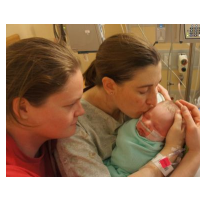 Chelsea and Jessamy Torres with their son (photo: Lambda Legal)
By Molly Willms, Courthouse News Service
MADISON, Wis. (CN) — When filling out birth certificates Wisconsin has been holding same-sex parents to a stricter standard than it does heterosexual couples, a federal judge ruled.
U.S. District Judge Barbara Crabb, the same judge who struck down the state's ban on same-sex marriage in 2014, handed down the narrow victory Wednesday for gay Wisconsinites.
The case stems from birth of A.T. to Madison couple Chelsea and Jessamy Torres in March 2015.
Though the Torreses requested both of their names listed as parents on A.T.'s birth certificate, the Wisconsin Department of Health Services issued a certificate that named Chelsea as the sole parent.
Crabb quickly cut through the state's argument that state law 891.40(1) says couples who conceive through artificial insemination cannot receive a two-parent birth certificate unless both women give written consent for the procedure.
Jessamy did not provide written consent for her partner's insemination, but Judge Crabb noted that the state is less strict about this rule when it comes to straight couples.
"The undisputed facts show that the department was not enforcing § 891.40(1) against different-sex married couples until May 2, 2016, when the department changed the forms that parents of newborn babies must complete," the 20-page ruling states. "Because it is well established that discriminatory enforcement can violate the equal protection clause and the department does not offer any justification for its discriminatory treatment, I am granting plaintiffs' motion for summary judgment and denying the department's motion with respect to class members who requested a two-parent birth certificate before May 2, 2016."
The written-consent requirement, passed May 2, 2016, is written to apply uniformly to all couples, but the department offered no instance where it denied a heterosexual couple a birth certificate for failing to comply.
Crabb chided Torreses for failing to stay within the boundaries of their case, instead arguing that all "female couples" are entitled to two-parent birth certificates, provided one gave birth to the child.
"That argument has little relevance to the remaining issues in this case in light of the department's concession that same-sex couples and different-sex couples who use artificial insemination are entitled to the same treatment," Crabb wrote.
In light of this concession on equal treatment, Crabb said the state would be remiss not to update its forms and instructions to hospital personnel to include gay couples.
As of now, the second parent is referred to only as a "husband," despite it having been amended after same-sex marriage was legalized in Wisconsin.
"Obviously, the department is not treating female couples equally if its forms suggest that female couples may not even apply for a two-person birth certificate," Crabb wrote.
In the interest of avoiding further costly lawsuits, "it would behoove the department to make the change now," Crabb wrote.
Crabb emphasized that her ruling is a narrow one since the Torreses have not shown whether the May 2, 2016, changed the discriminatory enforcement.
The Torreses were represented by Kyle Palazzolo of the LGBT civil rights firm Lambda Legal. Palazzolo has not returned a voicemail seeking comment.
The state's Department of Justice is still reviewing the decision to determine its next step, spokesman Johnny Koremenos said in an email.
To Learn More:
Chelsea Torres and Jessamy Torres v. Linda Seemeyer (U.S. District Court for Western District of Wisconsin)