Contaminated Water Warning for Alabama Counties Coincides with Industrial Chemical-Dumping Lawsuit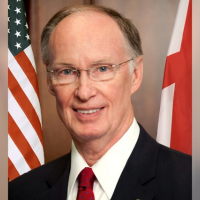 Gov. Robert Bentley
By Phillip Lucas, Associated Press
COURTLAND, Ala. (AP) — Lisa Davis, a cashier at a Foodvalu grocery store in rural north Alabama, spent Friday ringing up bottled water sales after a local utility declared its tap water unfit to drink because of chemical contamination.
Some customers got a six-pack; others bought jugs or a whole case. The scene was the same across the street at a Dollar General store, where a big metal cart once full of bottled water stood empty.
The run on water began Thursday afternoon, when officials with the West Morgan-East Limestone Water and Sewer Authority held a news conference to warn the utility's 10,000 residential and business customers in parts of two counties to not drink or cook with tap water because of chemical contamination.
Davis, 41, said she and her two children will be fine during a dry spell that officials said could last until fall. But she's worried about the less fortunate and elderly who may not have extra money to spend on bottled water.
"These older people who are on a fixed income can't just go out and buy water," she said. "They are paying water bills."
The scare comes as other states are dealing with serious water-contamination issues: In Flint, Michigan, where tests found lead in tap water earlier this year, officials are still distributing bottled water to residents. In West Virginia, lawsuits and an investigation are ongoing over the release of toxic chemicals into the Elk River in 2014.
The West Morgan-East Limestone utility has long been aware of the presence of perfluorooctanoic acid and perfluorooctane sulfonate in its water system, but the levels of the chemicals were within acceptable levels defined by former Environmental Protection Agency guidelines. Last month, however, the EPA lowered its recommended levels for the chemicals. It said water systems with combined levels of 70 parts per trillion of the chemicals in drinking water should advise customers of the potential health risks and take steps to reduce the chemicals.
The chemicals, commonly called PFOA and PFOS, have been used to make fabrics, packaging and coatings for cookware, according to an EPA fact sheet. Studies indicate that exposure to PFOA and PFOS above certain levels may result in problems including low birth weight, accelerated puberty, cancer, liver damage and immune-system effects, according to the EPA.
Under its new guidelines, the EPA says pregnant women and breastfeeding mothers should not drink the water and that it should not be used in baby formula.
West Morgan-East Lawrence's general manager, Don Sims, went further after recent tests of the local water found levels almost 60 percent higher than the new EPA limit.
"I would rather be overcautious than under-cautious," Sims said during a news conference. "I'm not a doctor; I'm not a chemist. But when they tell one class of people the water is not safe, I don't want to be the one to say, 'You drink it and you don't.' So I said, 'Nobody drink it.'"
A temporary filtration system to purify the water won't be ready before September, officials said, and a permanent solution could be three years away.
Dr. Jim McVay, a spokesman with the Alabama Department of Public Health, said the authority made the announcement without consulting health or environmental officials. The Health Department is sticking with EPA guidance that warns only some to avoid the water, he said.
"That's the best science we have," McVay said.
Gov. Robert Bentley said in a statement that the local decision "effectively turned an advisory into a regulation."
"Based on my current understanding, I am confident that there is no health-related crisis based on the water quality of the West Morgan East Lawrence Water Authority," Bentley said.
The utility's latest warning comes amid an ongoing lawsuit that it filed against 3M and other manufacturing companies along the Tennessee River last year, blaming them for polluting the river with industrial chemicals.
A Texas law firm representing 3M in the lawsuit released statements defending the company's actions and saying the EPA was being overly conservative with its advisories about the chemicals.
"3M's activities in connection with these materials were not only fully permitted but entirely appropriate," said company attorney William A. Brewer III. "In any event, we believe the claims against 3M — and recent actions taken by the water authority — are based upon the mistaken belief that the mere presence of these chemicals equals harm."
That may be true, but Davis said she isn't taking chances. The cashier doubles as a secretary at the volunteer fire department, and she said she plans to spend the weekend notifying older residents not to drink their tap water.
Associated Press Writer Jay Reeves in Birmingham contributed to this report.
To Learn More:
Deadly Chemical PFOA Found in Water of Factory Towns Nationwide (by Mary Esch, Associated Press)
18 Unregulated Chemicals Found in a Third of U.S. Water Utilities Tested (by Noel Brinkerhoff and Danny Biederman, AllGov)