Interior Dept. Sued for Withholding Data on Solar Project that Incinerated Birds in Flight
Wednesday, March 02, 2016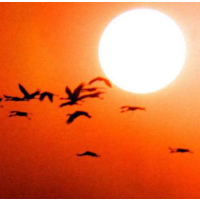 By Mike Heuer, Courthouse News Service
LAS VEGAS (CN) - A Nevada solar energy project focused light so intensely it incinerated 115 birds in flight, and though the company says it's fixed the problem, the Department of the Interior refuses to release information on it, environmentalists claim in court.
Basin & Range Watch sued the Bureau of Land Management and the Department of the Interior on Feb. 26 in Federal Court. Its FOIA complaint seeks documents on testing and operations at the Crescent Dunes Solar Energy Project near Tonopah.
The solar energy project started commercial operation in February. It aims 17,500 mirrors at a 540-foot-high solar energy tower containing molten salt, which produces steam and generates 110 megawatts of electricity, according to the complaint.
Basin & Range Watch posted a video that it says shows birds flying into the solar beams and "incinerating in the intense reflected heat" during a Jan. 14, 2015 test of the solar array's standby system.
About 115 birds were set aflame that way, the group says. The video shows them "being burned and literally turning to smoke as they fly through the concentrated solar rays," Basin & Range says in the complaint.
Biologists calls these bird deaths "streamers," due to the smoke they give off as their feathers catch fire and the birds fall to the ground in the 900-degree beam, the Las Vegas Review Journal reported in March last year.
Basin & Range Watch asked the BLM for the video and documents, and received the video and 257 pages of documents in November last year, but the BLM withheld 3 pages and parts of 15 others, claiming they are exempt from disclosure as trade secrets or confidential financial information.
Santa Monica, Calif.-based SolarReserve owns the solar array project. Its CEO Kevin Smith told the Review-Journal the company repositioned the mirrors to spread out the beam over hundreds of yards while in standby mode, making it safe for birds to fly past.
When not in standby, and the mirrors are focused on the steam tower, the tower becomes bright enough to deter birds from flying into it, Smith told the newspaper.
Smith did not say the bird deaths would stop, but said they should be greatly reduced.
Basin & Range Watch disagrees. It says birds are dying at greater rates than claimed, and though the BLM produced most of the documents it sought, it wants to see all of them.
It seeks an injunction and production of documents under the FOIA and the Administrative Procedures Act.
The BLM did not respond to an emailed request for comment on Monday.
Basin & Range Watch is represented by Christopher Mixson, with Wolf, Rifkin, Shapiro, Schulman & Rabkin in Las Vegas, who could not be reached for comment Monday.
To Learn More:
Town Rejects Solar Farm, Fearing it Will Kill Plants, Cause Cancer and Suck up All the Sun's Energy (by Noel Brinkerhoff, AllGov)
Did Fried Birds Cook Proposed Desert Solar Project's Goose? (by Ken Broder, AllGov California)
Solar Farm in the Mojave Seen Igniting One Bird Every Two Minutes (by Ken Broder, AllGov California)
Pilots Say Glare from Newly-Opened Ivanpah Solar Farm Is Blindingly Dangerous (by Ken Broder, AllGov California)