Cambodia's Ambassador to the United States: Who Is Chum Bun Rong?
Sunday, November 29, 2015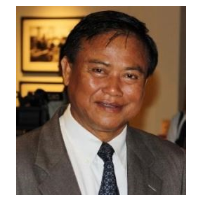 Chum Bun Rong (photo: Embassy of Cambodia)
Chum Bun Rong presented his credentials as the Kingdom of Cambodia's ambassador to the United States on Aug. 3, 2015, after being appointed by his government to the post in March. It's the first such posting for Bun Rong, who is also serving as ambassador to Mexico.
Bun Rong, whose name is sometimes spelled Bunrong, was born April 3, 1950. He studied at Potsdam Academy in Germany and has a bachelor's degree in Law and Human Sciences.
He served as a second lieutenant in Cambodia's army from 1972 to 1975 as a military police officer, with training in the United States at Fort Gordon, Georgia. When the Khmer Rouge took over the country in 1975, Bun Rong initially went into hiding, then was imprisoned by the regime. He told journalists, according to his biography, "I basically thrown away my uniform and escaped into the jungle feeding myself with insects and roots to survive."
In 1979, after Vietnamese troops invaded Cambodia to knock out the Khmer Rouge government, Bun Rong was a spokesman for the Ministry of Foreign Affairs and International Cooperation under Foreign Minister Hun Sen, who is now the long-time prime minister of Cambodia. Beginning in 1991, Bun Rong was a member of the ruling Supreme National Council that existed in the run-up to UN-sponsored elections.
Bun Rong was named in 1994 as director general of the Social Fund of the Kingdom of Cambodia, which managed funds provided for investment by the World Bank. In 2006, he was made deputy secretary general for the National Authority for Land Dispute Resolution, which mediates disputes over land ownership in Cambodia.
In 2008, Bun Rong was named an adviser to Prime Minister Hun Sen and secretary general of Cambodian Mine Action and Victim Assistance Authority, where he served until 2014. Until his appointment to Washington, Bun Rong remained an adviser to Hun Sen.
Bun Rong is married with four children. He, like the vast majority of his countrymen, is Buddhist. He enjoys table tennis and joined a Washington-area table tennis club soon after his arrival. He speaks English, French and Khmer.
-Steve Straehley
To Learn More:
Official Biography (pdf)