8 Corporations have Paid $1 Billion or more in Penalties in last 5 Years
Friday, November 06, 2015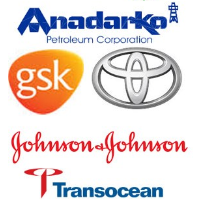 Eight companies have had to pay federal penalties of $1 billion or more in the past five years, according to a new website dedicated to corporate misconduct.
The eight billion-dollar offenders were punished by federal regulatory agencies for environmental, health and safety offenses occurring since 2010, Corporate Crime Reporter found.
BP paid the largest penalty recorded in Violation Tracker, totaling $25.4 billion, for the Deepwater Horizon disaster that polluted large parts of the Gulf coast five years ago. Other huge payments were made by Anadarko Petroleum ($5.2 billion), GlaxoSmithKline ($3.8 billion), Johnson & Johnson ($2.4 billion), Abbott Laboratories ($1.5 billion), Transocean ($1.4 billion), Toyota ($1.3 billion) and Alliant Energy ($1 billion).
Toyota had a unique standing as it also received more than $1 billion in government subsidies, according to another database maintained by Good Jobs First, which created Violation Tracker. It's the only company to break the billion-dollar barrier in both categories, according to The Washington Post.
Violation Tracker also lists other substantial penalties, including those assessed to 40
companies that have paid $100 million or more. All entries in the new database total about $60 billion, according to Corporate Crime Reporter.
The fines leveled against violators were initiated by the Environmental Protection Agency, the Occupational Safety & Health Administration and 11 other federal agencies that address environmental, health and safety issues.
"The never-ending cases of corporate wrongdoing, seen most recently in the Volkswagen emissions scandal, make it essential for policymakers, advocates, journalists, and the general public to have access to systematic information across agencies," Good Jobs First research director Philip Mattera, who leads the Corporate Research Project and spearheaded work on Violation Tracker, said according to Corporate Crime Reporter.
-Noel Brinkerhoff, Steve Straehley
To Learn More:
Eight Large Corporations Penalized $1 Billion or More Each Since 2010 in Environmental, Health and Safety Cases (Corporate Crime Reporter)
Corporations have Paid More than $57 Billion in Environmental, Health and Safety Penalties Since 2010 (by Niraj Chokshi, Washington Post)
BP and Its Brethren (by Philip Mattera, Good Jobs First) (pdf)
Violation Tracker: Top 100 Parent Companies (Good Jobs First)
Why are Large Corporations Allowed Tax Deductions for Violation Settlements? (by Noel Brinkerhoff, AllGov)
Big Corporations Accused of Crimes Usually Pay Fines while Avoiding Jail Time (by Noel Brinkerhoff and Danny Biederman, AllGov)